In July 2023, downtown Portland is experiencing a promising resurgence in foot traffic, marking a significant step towards revitalization. Visitor foot traffic has rebounded impressively, reaching 67% of the levels seen in 2019. This resurgence indicates a growing interest in exploring the area once again.
Employee foot traffic, which measures daily commutes to the Downtown Portland Clean & Safe district, is also on the path to recovery, standing at 48% of the 2019 levels. Although this figure is slightly lower than the 51% recorded in June, it aligns with the expected seasonal dip that occurs during the summer months due to vacations. Similar trends are anticipated for August. However, as we approach September and work schedules normalize, we anticipate an upward trajectory in these recovery figures. While employee foot traffic lags behind visitor foot traffic, this increase signals a significant return of employees to their workplaces.
When comparing July 2023 to the same month in the previous year, a remarkable 9% surge in foot traffic has been observed. This growth is a positive indicator of increased activity in the district, possibly suggesting a broader resurgence of economic and social engagement in Downtown Portland.
Notable traffic hotspots within the district include the area around Powell's at 10th & Burnside, the district's connection with Portland's West End, The Cart Blocks (a popular food cart pod in the Park Blocks), and Old Town, where high levels of foot traffic have been observed around the Lan Su Gardens and the SmartPark Parking lot at 2nd and Everett.
These trends paint an encouraging picture for downtown Portland's recovery. Visitor foot traffic has not only bounced back but has surpassed the halfway mark of pre-pandemic levels. Employee foot traffic is also making significant progress. The substantial 9% increase compared to the previous year showcases the district's positive momentum as it strives towards full revitalization.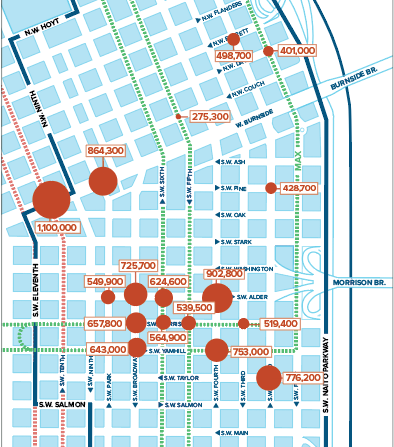 (click on image to download full map)
Methodology
In the past, Downtown Portland Clean & Safe has engaged with partners to conduct pedestrian counts in Downtown Portland over a three-day period, two times a year. In years past, these counts have been limited by manual counts in 15 key intersections from 7 a.m. – 7 p.m., in December and in June and within the Clean & Safe District – a 213-block enhanced services district in the heart of our city. 
Now using Placer.ai data to monitor traffic and visit trends 24-hours a day, Clean & Safe has expanded its pedestrian count research to look at the entire 213-block district. Downtown Portland Clean & Safe can now compare results from past years and even compare data to other cities, as well as look at times of day people are in downtown, which days are busier, and the spaces/venues people are frequenting.