People are returning to Downtown Portland in dramatic numbers compared to 2021. The city is far busier than last year, and the community is flocking into downtown for large-scale events, dinner and entertainment, according to our recent pedestrian counts.
Although other recent counts have shown that Portland currently lags behind other major cities in the number of people returning to the City Center, those reports do not necessarily compare equivalent data nor provide a full context.
Throughout the COVID-19 pandemic, it has been mostly up to state and local officials to determine rules for opening and closing businesses and sectors of the economy for their own communities. Oregon's and Multnomah County's success in saving lives is unquestioned; however, to save these lives, Portland reopened much later than many other major U.S. cities. Moreover, we know that Portland is still recovering from the multiple crises of the last few years. A patchwork of unequal re-opening dates and strategies for managing various crises creates unequal recovery data.
A deeper dive into 2022 foot traffic reveals a dramatic increase in numbers when compared to 2021. Time-of-day records show a notable uptick in people visiting Downtown Portland during the evenings and on weekends, as opposed to traditional work hours.
The results of our latest pedestrian count measures visitors, employees and residents from March 1 – June 9 of 2022, unless otherwise noted.
In 2019, prior to the pandemic, pedestrian traffic was evenly distributed across each day of the week – with slight increases on Fridays. In 2022, while the traditional work week remains slower, there is an increase in foot traffic on Fridays and Saturdays, with Fridays being Downtown's busiest day of the week.  
When looking at Saturdays over Memorial Day and the first two weekends in June (which included the Rose Festival Parades, City Fair, fireworks and Dragon Boat Races), the number of people downtown was recorded at 71.4% of 2019 levels. 
The time of day people are in downtown has also changed. Pre-COVID, the city was consistently busy from 8 a.m. until 10 p.m., but 2022 counts reveal an uptick in the number of people downtown between 6 and 10 p.m., indicating that people are coming downtown for purposes of dinner, leisure and recreation. 
Block by Block Comparison
Overall, the pedestrian traffic has increased across all intersections compared to last year. Three intersections consistently generate the highest pedestrian counts, SW 10th & Burnside, SW 4th & Alder and SW 2nd & Taylor.
To make data comparable to past pedestrian counts the traffic at the intersections below was measured on one day between June 10-12, 2022.
The intersections tracked this year include the following:
NW 1st & Davis
NW 2nd & Everett
SW 2nd & Taylor
SW 2nd & Pine
SW 3rd & Morrison
SW 4th & Alder
SW 4th & Yamhill
NW 5th & Couch
SW 5th & Morrison
SW 6th & Alder
SW 6th & Morrison
SW 10th & Burnside
SW Broadway & Alder
SW Broadway & Morrison
Broadway & Yamhill
SW Park & Alder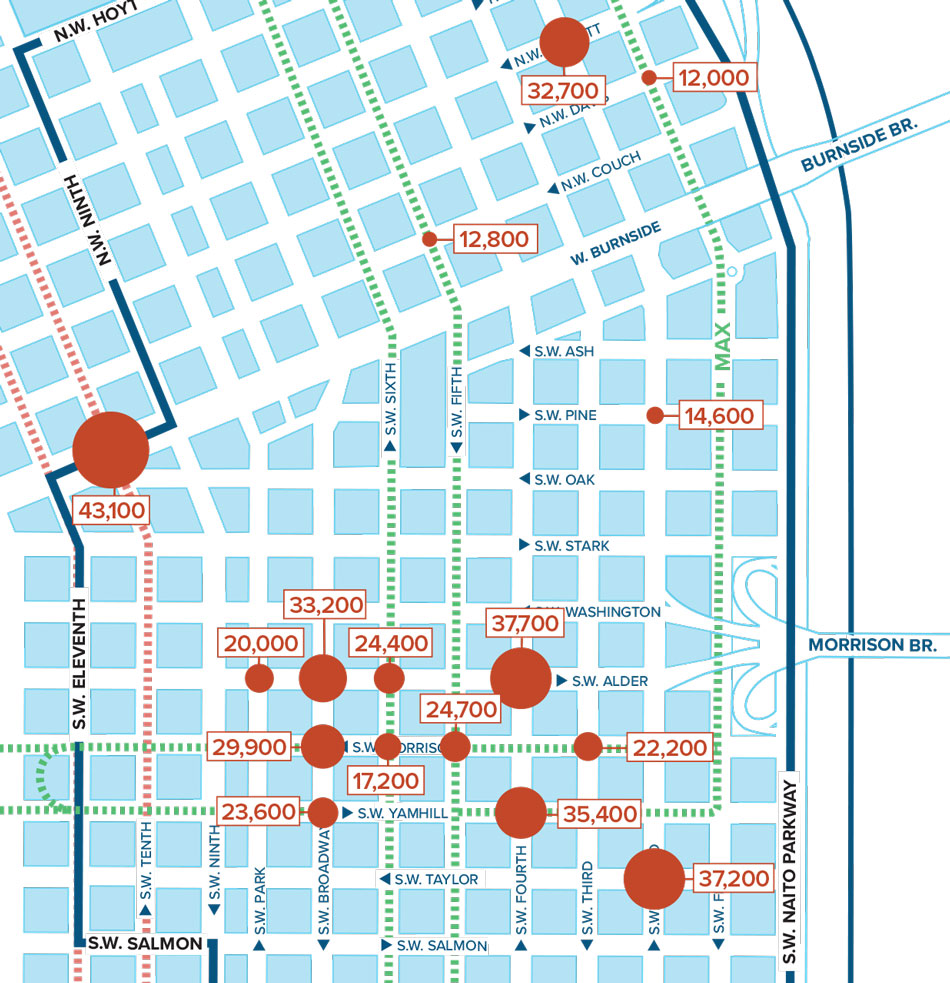 (click on image to download full map)
Methodology
In the past, Downtown Portland Clean & Safe has engaged with partners to conduct pedestrian counts in Downtown Portland over a three-day period, two times a year. In years past, these counts have been limited by manual counts in 15 key intersections from 7 a.m. – 7 p.m., in December and in June and within the Clean & Safe District – a 213-block enhanced services district in the heart of our city. 
Now using Placer.ai data to monitor traffic and visit trends 24-hours a day, Clean & Safe has expanded its pedestrian count research to look at the entire 213-block district. Downtown Portland Clean & Safe can now compare results from past years and even compare data to other cities, as well as look at times of day people are in downtown, which days are busier, and the spaces/venues people are frequenting.