Notice and Instruction to Bidders
Downtown Portland Clean and Safe is requesting proposals for its 2023-2024 Lighting Program. Each year, the Clean and Safe District manages this program in downtown's central retail core to provide extra illumination, increase safety, and encourage people to shop and celebrate downtown. We light over 800 trees (and growing!) in the Downtown area and over 80 blocks. We also manage lighted décor including 200 snowflakes, 200 LED Stars, 160 Starbursts, and additional props and urban décor. 
The lighting program is a "green" program with the conversion of the older incandescent light strings to much brighter LED (Light-Emitting Diode) strings that use only 20% of the electricity used in years past. We also offset our energy use with Renewable Energy Certificates (RECs), through Pacific Power's Blue-Sky program. Ten years ago, we added enhanced lighting on Yamhill and Morrison streets by lighting the trunks of these trees in addition to the already lit tree canopies. We hope these additional lights continue to create a more pedestrian friendly environment and serve to designate the Signature Retail Streets, as identified in the 2009 Downtown Retail Strategy Task Force Report.  
Our traditional lighting program runs from November 1 –  April 15. We are finding that the improved safety and lighting are enhancing the Downtown area so much we are also looking for a secondary quote for managing the lighting in the 'off season' April 15 – November 1. Please see photos and map of the Downtown lighting areas we are speaking of.
Interested parties are to respond no later than 8:00 a.m. on Wednesday, May 22, 2023.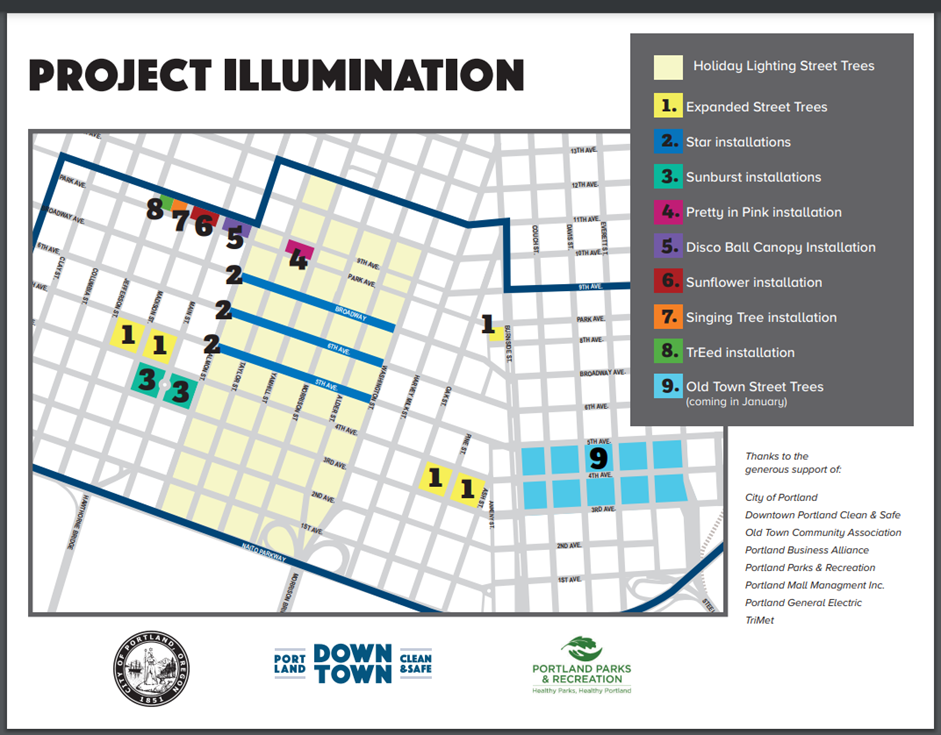 Requirements:
Vendor must have their Limited Maintenance Electrician (LME) License
Vendor must complete training to work with TriMet's high voltage lines
Downtown Portland Clean & Safe values working with woman-owned or minority-owned businesses to support equity and inclusion in the Portland region. Business owners with certified or special socio-economic status are encouraged to apply.
Submission of Proposals:
Should not exceed 10 pages.
Proposals should be emailed to:
Sydney Mead
Senior Director, Downtown Programs
Portland Business Alliance
121 SW Salmon Street, Suite 1440
Portland, OR 97204
Background:
The Downtown Portland Clean & Safe District encompasses a 213-block area of downtown and is one of the oldest, largest and most successful business improvement districts in the nation. Businesses within this area elected to pay a fee to raise money that supplements publicly financed services for neighborhood improvement, including cleaning, security, community justice services, market research and retail advocacy. Established in 1988, this 501c3 nonprofit is celebrating its 34th anniversary. For more information, go online to DowntownPortland.org.
Purpose and Objectives of the Project:
Providing Street Tree and other Lighting for Downtown Portland.
1. Scope of Work
The project includes:
Installing LED lights for 800+ trees, about 200 snowflakes, 200 LED Stars, 160 starbursts, and additional café lights in Old Town and around The Cart Blocks.
Working with building owners to ensure power to the holiday lights, occasional maintenance to existing exterior electrical plugs and infrastructure will be required.
Working with retail businesses to ensure that installation does not disrupt their business.
Working with TriMet to set up a schedule when the light rail can be paused for service and for installation (typically during the night/graveyard).
Daily inspections (typically starting at 4 a.m.) from November 1st – April 15th to ensure power is working at each tree and troubleshooting issues with storms, vandalism, and other damage. Inspections 4-5 days a week from April 15th – November 1st. Replacing and repairing issues quickly.
Please note the necessary permits will be acquired by Downtown Portland Clean & Safe and will not be the vendor's responsibility.
2. Budget for Scope of Work
Proposals received: May 31st , 2023
Proposals Awarded: June 30st, 2023
Installation: July 1st – October 31st, 2023
3. Budget for Scope of Work
To be negotiated. (Hourly or fixed fee proposals will be accepted.) Generous in-kind sponsorship trade or exchange for services may be considered as part of this proposal.
Selection Criteria and Requirements:
The successful responder for the project will be:
Experienced and qualified to execute one or all four phases named above.
Establish an individual point of contact to act as project manager and coordinator with DPC&S staff.
Be accessible and able to conduct face-to-face meetings as needed.
Able to accomplish the scope of the project within the approved budget parameters for labor and other fees.
Required Project Pricing Disclosure and Format:
The presenter must include in the proposal response the following:
Itemized cost for:

Adding new LED lighting in street trees, cost should include Fire Marshall approved extension cords from the buildings.
Maintenance and servicing existing 800+street trees that have lighting, but might need cords re-done or re-hung to prepare for the Winter Holiday Season.
Costs for installing décor pieces such as the LED Stars, Snowflakes, Starbursts, and other new lighted décor pieces we may be able to purchase for the upcoming Winter season.
Costs for weekly maintenance.

Variables must also be identified that would drive the price of the project up and be presented as an estimate and must be clearly identified in the breakdown.
Proposal Requirements:
All proposals must adhere to the following proposal format and include:
Business identification and main office address of the bidder.
Main contact person (for notification purposes).
Project lead identified.
Short biographical information of individual(s) who will be involved in this process.
Technical approach/proposed process (not to exceed one page).
Present at least one case study example of a similar project with supporting visual images (not to exceed a total of one page).
Firms diversity and equity policies.
References (If vendor is a new vendor to Downtown Portland Clean & Safe, please include four references including contact information).
Proposal should not exceed 10 pages.
Selection of Responder:
Scoring of Proposals – Selection will be based on the following:
Approach of submission
Staff Qualifications/Experience
Firm Qualifications/Experience
Firm References
Firm location in proximity to Portland, Oregon
Firm meeting our diversity and equity goals
Acceptance of Bids:
Unless bids are submitted per the required instructions of this RFP, the bid may be rejected as a non-responsive vendor.
Award and Final Offers:
After carefully evaluating responsive bids and vendors, the Director of Retail Programs will make the final decision regarding the selected firm.
Notification of Award:
The selected firm will be notified via an email to the main contact person.
Equal Opportunity Proposal Acceptance Policy:
It is important to the Selection Committee that all procurement practices, including this Request for Proposal, be conducted with integrity, consistent with sound business practices and applicable laws and regulations. The Selection Committee's evaluation process shall provide for fair and open competition among all bidders.