We are very excited to share that we are expanding and extending our annual winter lighting project!  Traditionally, we light 760 streets trees within the Clean & Safe district but this year that has expanded to more than 800 street trees plus several special lighting installations. This year you'll get the opportunity to enjoy holiday and winter light displays throughout the darker winter months with many lights staying lit until April. Our winter light displays will also stay up for the annual Winter Light Festival.  The theme this year for the festival is "The Light of Stars". We have 240 stars that are going up in the Downtown area as well as starbursts. Come meander through our downtown streets and enjoy the twinkling lights! See the map below for special lighting install locations.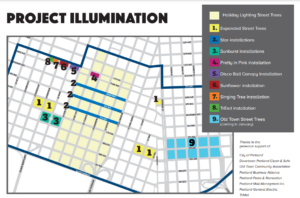 The enhanced seasonal and winter lighting project was made possible due to support from the Portland Business Alliance, the City of Portland, Portland Park & Recreation, Portland General Electric, Portland Mall Management Inc., TriMet, Tungsten Heart, and the Old Town Community Association.
Our holiday lights have also gone green this season with help from participants of Pacific Power's Blue Sky renewable energy program.
More About the Lighting Installations
Disco Ball by artist Ivan McLean (Installation 5):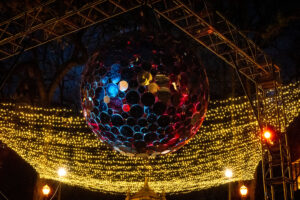 Ivan McLean and his wife Michelle Bressler live in Portland, Oregon with their three daughters, Celia Rose, Anna Grace and Molly Shea. Ivan is born and raised in neighboring California. Growing up the son of a Danish contractor/ adventurer and Swedish mother/ photographer he developed a love for art and building things at a young age.  During high school he picked up welding while working on ranches near the family home in Point Reyes Station, California.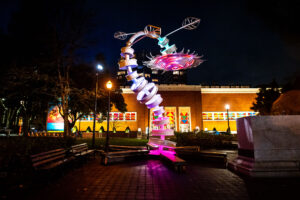 Sunflower by artist Fez BeGaetz (Installation 6):
Fez BeGaetz is a Portland, Oregon-based artist also known for his large-scale sculptures and environments amplifying natural forms using steel, lumber, acrylics, fabric, rigging and LED illumination. Founder of Alchemy Arts Collective, he and his team create works around the world. His sculptures have recently been featured at Area 15 Las Vegas & Riyadh, Toronto Winter Lights Festival, and The Orion Amphitheater. This Piece "Sunflower" or Helianthus Enorme: Larger Than Life Illuminating Megaflora, display the swirling LED glows of the largest sunflower head you may have ever seen! Built from steel, a recycled aluminum satellite dish, acrylic petals, paint and programmable LED lights, this piece was inspired by the proud nature of the sunflower in the plant kingdom. To the artist, Fez BeGaetz, it reminds him of the best qualities of his father which he sees in himself.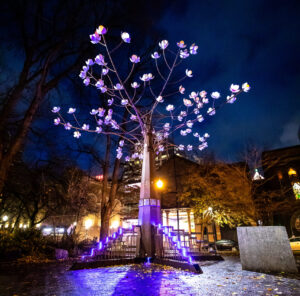 TrEed by Tyler FuQua Creations (Installation 8):
Tyler FuQua Creations (TFC) is a small group of creative people based out of Eagle Creek, Oregon and have been creating large-scale art for over 15 years.  They have received six Honorarium art grants from Burning Man, which inspired the TrEeD installation. The collective displays art in the Smithsonian, The Cincinnati Museum of Art, and The Oakland Museum of California. TFC is probably best known for its series of giant robots called The Mechans. They are currently creating their sixth Mechan robot sculpture which will be displayed on the Portland Waterfront for the Portland Winter Light Festival. TFC loves creating out-of-this-world art that inspires people to let their imaginations go wild no matter what age they are.
Singing Tree by Limbic Media and Tross Build and Maintenance (Installation 7):
The 'Singing Tree' listens to sounds and music from the environment, turning any tree into an interactive and magical experience.