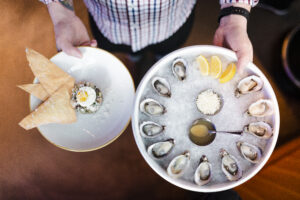 This month, in recognition of Valentine's Day, our Downtown Portland and Downtown Clean & Safe teams partnered with local businesses to create a free Valentine's Day package for TEN lucky participants. Packages included an overnight stay with a choice of the Dossier or Hotel deLuxe (Provenance Hotels), champagne for the room, a box of artisan chocolates from Azar Indulgences, a special gift from Portland Gear, and dinner for two at SouthPark Seafood ($100 value).   
Participants were required to post "Why I love Portland" messages  on their social media platforms, tagging Downtown Portland and using the hashtag #LoveDowntown2022. The social media campaign ran from Friday, January 28 through midnight, January 31 on all Downtown Portland platforms: Twitter, Instagram, and Facebook.   
Winners were notified on February 2, and included: Vienna, Russ Tomka, and JR (from Twitter), Moods Boutique and Alexander Butler (from Facebook), Amandagourshetty, Passion4planet, Workwinsave, Gorema2686, and Ali_golightly_portland (from Instagram). 
Take a look at some of the reasons why our followers love Portland: 
I Love Portland because it's charming, vibrant and scenic! ##LoveDowntown2022

— Vienna (@Vienna1081) January 31, 2022
I love the restaurants and food carts downtown. @inDowntownPDX #LoveDowntown2022

— Russ Tomka (@RussTomka) January 31, 2022
Biking home from Timbers matches!!#WhyILoveDowntown #LoveDowntown2022 @inDowntownPDX

— Garrett Campion (@gcampy23) February 1, 2022
Thank you so much to all of our contest participants and winners! We really enjoyed reading about your love for our city!