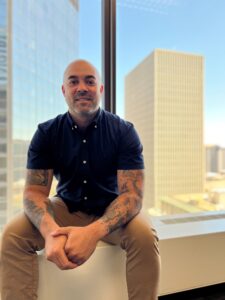 An active member of the community, Terrence has previously dedicated his time to the Historic Parkrose Neighborhood Prosperity Initiative, The Oregon Business and Industry Transportation Committee, and the YMCA of Columbia – Willamette at Parkrose Middle School as a Track and Field Coach. We feel extremely fortunate to have such a dedicated community member lead our committee. 
Why are you involved with Downtown Portland Clean & Safe?
The Standard provides many opportunities for employees to volunteer their time with the community.  When the opportunity arrived for me to join DPC&S, representing The Standard, I was very excited. Being involved with DPC&S gives me the chance to learn and grow from other community leaders as well as offers me the chance to serve the Downtown community. The partnership with Central City Concern is something I am extremely thankful for.  As someone who grew up around a family that struggled with addiction and houselessness, it brings me so much joy to see those who are given another chance and a hand up to make long-term changes.
What DPC&S successes are you most proud of?
I am blown away every month at the stats I see of how much trash and bio waste is removed from our streets. We all know Portland is in a tough spot right now and DPC&S is doing everything it can to help. Without these crews cleaning every day I could not even imagine what our district would look like.
What do you appreciate most about the DPC&S teams?
DC&S brings together a wide spectrum of community members for the benefit of Downtown Portland.  From property owners, small businesses, large businesses, the Central City Concern team, condo owners and residents we all want the same thing.  A clean and safe district that we can be proud of, that thrives and is a place people from all over the world want to visit.
What are DPC&S's goals/top priorities for the year ahead?
Looking ahead, our goals are to find ways to maximize efforts to better serve the Downtown community.  One of the ways we plan to do this is by engaging all ratepayers and creating better paths of communication. I want all ratepayers to have a voice and to be able to see and understand clearly where DPC&S is successful and where we need improvement. We need to have clear metrics and key performance indicators that show our customers what we are doing, what we are responsible for, and frankly, what we can and cannot do. Too often we allow the naysayers and those that want Downtown to fail to drive the narrative. We need to take it back. 
What do you like to do for fun, on your off-time?
I have been a musician for most of my life.  I currently play drums in a couple bands, and you can usually find me playing or enjoying a gig at one of Portland's great music venues on the weekends.  My family and I are also big foodies, we love to go out and explore all the amazing Portland restaurants as well as BBQ and cook big meals for friends and family at home.  
"The DPC&S team has never given up on Downtown Portland and we never will.  Because of the hard work from the cleaning, safety and operations teams we will help build downtown back bigger and better. With fresh ideas and outside-the-box thinking from a diverse team the sky is the limit", shared Terrence. 
And as we say hello to Terrence, we also want to acknowledge and thank Cindy Laurila for her tremendous leadership over the last year. Cindy's tenure as Board Chair saw the 10-year contract renewal of Downtown Portland Clean & Safe, effectively ensuring that our team will continue providing extraordinary services to the people, places and businesses within a 213-block area in the heart of Downtown Portland.  
Cindy, on behalf of a grateful DPC&S team, along with Downtown's business community, residents, tenants and property owners, we thank you for your leadership and dedication to ensuring the success of Downtown Portland!