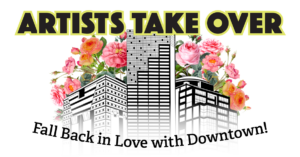 The Portland Business Alliance partnered with Gallery Go Go for a fall 2022 Art Show Competition called Fall Back in Love With Downtown Portland: Artists Takeover. As part of a campaign under its Downtown Portland marketing initiative, the Alliance issued a call for photographers and/or photography enthusiasts interested in participating in the campaign doubled as an art show contest aiming to capture the beauty, essence, and spirit of Downtown Portland – for a cash prize.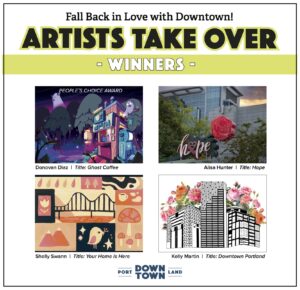 Crowd Favorite WINNER:
Donovan Diaz| Ghost Coffee |@drawntworks
Commissioner Rubio Award: 
Shelly Swann |

Your Home is Here | @fairywulf

Alisa Hunter | Hope
Kelly Martin | Untitled |

@MothersMagazines
Selected participants had the opportunity to showcase their entries as part of a month-long art exhibit in October at Gallery Go Go, located at 700 SW 5th Avenue in Downtown Portland's Pioneer Place Mall. 
"I was thrilled to host the Fall Back in Love with Downtown Portland: Artists Takeover. The best ideas for the future come from the creative community," says Azure Attoe, Owner of Gallery Go Go. " 
Launched on October 1, the competition accepted photographs with "Downtown Portland in the Fall" as the theme. Submissions had to be original works; showcase Downtown Portland's beauty, essence, and spirit; and be appropriate for all ages. A specially curated panel of local art enthusiasts selected their favorite art pieces for the gallery in the last week of September for exhibit display throughout October. The overall crowd favorite photograph will receive a $750 cash prize and be sold by Gallery Go Go. All applicants chosen for the exhibition can also sell their selected print (s) for an equal price of $40. 
"Fall is arguably the most beautiful time of year in Portland, and we developed this campaign with the creatives who love Portland in mind," says Sommer Martin, Director of Downtown Marketing for the Portland Business Alliance. "The Fall Back in Love with Downtown Portland campaign is special. Not only was the art pop-up new, it also spoke directly to die-hard Portlanders who want to use their fine art skill to capture and archive the very essence of our city."  
Visit the Downtown Portland website and or follow our social media platforms to stay up-to-date: Twitter, Instagram, and Facebook and follow Gallery Go Go on Instagram.  
********** 
About the Downtown Portland Marketing Initiative: The Downtown Portland Marketing Initiative is a program of the Portland Business Alliance, Greater Portland's Chamber of Commerce, which promotes Downtown Portland to audiences across the Greater Portland metro region and the world. Marketing programs include: holiday promotional efforts, robust social media messaging, events and programming, seasonal cooperative retail and restaurant promotions, and public relations campaigns to promote Downtown businesses. Downtown businesses may participate in the program at no charge. Visit: DowntownPortland.org for more information.  
About Gallery Go Go: Gallery Go Go is a gallery, a museum gift shop, and an interactive art experience all rolled into one. Offering vibrant art events and featuring a diverse range of artists that push the boundaries of their creative mediums. Visit www.gallerygogo.com for more information.  
Media Contact(s): 
Sommer Martin, Director of Downtown Marketing  
Portland Business Alliance  
(503) 552-6772 (office)  
Azure Attoe, Owner 
Gallery Go Go 
503-544-0577 (text)