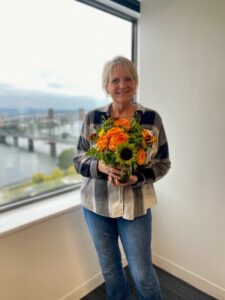 Thank you to those who joined us at our last 'Clean Start Program Appreciation Lunch'! These lunches provide us with a space to honor and celebrate the amazing impact that the Central City Concern Clean Start cleaning crew and DPC&S security coordinators have on our city. We also took the opportunity to acknowledge the amazing work and dedication of Clean Start Business Manager, Laura Brown, who has been guiding Clean Start program employees since 20 19.
"I was promoted into the manager's position about 3.5 years ago. I would have to say what I love most about my job is being able to see people change their lives. I get to see folks when they very first walk through the doors of Clean & Safe. I get to see people start to find hope and start to believe in themselves again, it's a beautiful gift to see. We learn how to do this together, this is not just a job, this is a family.
The cleaners show up every day, no matter what the weather is, ready to work, ready to go clean up what most people don't even want to look at. They do it with pride, knowing they are giving back, and helping their community. The community benefits from this by not only having a more livable city but helping folks create a new life. So, I encourage you to say hello to the cleaners when you see them out on their routes, it makes a difference. This job is about changing lives – we just have to pick up the trash along the way", shared Laura about her experience leading the Clean Start program.
If you're out in the downtown area and come across members of our safety or cleaning crews, please show your appreciation to these hardworking individuals! A smile and a thank you go a long way.