Downtown Portland Clean & Safe and its affiliate partner, The Portland Metro Chamber, have successfully advocated for the creation of a new Hotel Security District in downtown Portland with increased funding to support enhanced security for Downtown's vital hospitality and tourism sector.
In response to significant crime and safety concerns, Downtown Portland Clean & Safe will provide two additional shifts, between the hours of 3 p.m. and 2:30 a.m., adding a total of eight dedicated public safety coordinators in the Hotel Security District with this additional funding. These additional public safety officers will patrol two defined hospitality zones, seven days a week, enhancing Clean & Safe's current safety program that is funded by property owners within the enhanced service district.
About the Hotel Security District
The Hotel Security District covers two distinct areas that encompass the concentration of the central city's largest hotels and tourism activities.
Zone 1: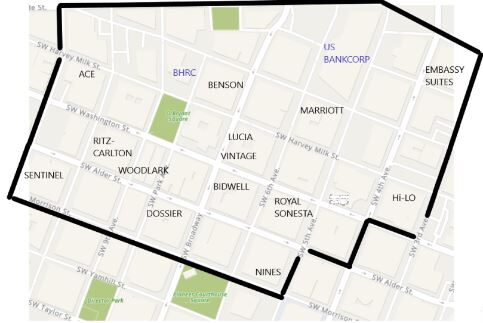 Zone 2: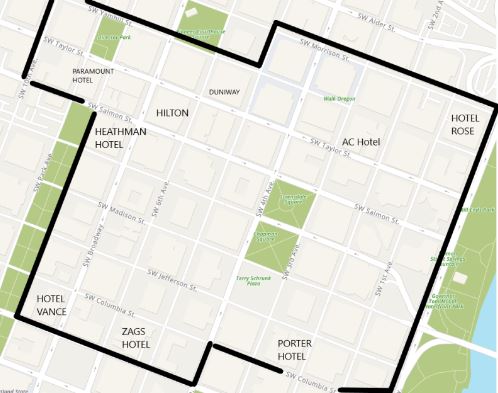 The Hotel Security District public safety personnel will focus on the hotels in both areas, responding to calls for service and proactive in-person contact near the hotels. Areas of known frequent safety concerns will be a priority, and personnel will conduct increased contacts with all parties to promote safety and livability for all.
These additional personnel will follow the current Downtown Portland Clean & Safe scope of work policies, activities, and guidelines, and will be supported by existing public safety staff when necessary. Other duties will include providing information and directions as needed to tourists, extra presence at dedicated events within the zones, and intentional relationship building with hotel front desk and security personnel for better collaboration and service.
The Hotel Security District will not take away from services elsewhere in the Downtown Portland Clean & Safe District but will add personnel who will work collaboratively together to solve problems and help the Downtown core current safety challenges.
Funded by an array of stakeholders, the extra security within the Hotel Security District represents services beyond what is already provided by Downtown Portland Clean & Safe.
Who's paying for this?
The Hotel Security District is a true public-private partnership, with funding from an array of major stakeholders. This includes:
$400,000 from the Office of the Multnomah County District Attorney
$200,000 from downtown businesses
$200,000 from Multnomah County
$100,000 from the City of Portland
$100,000 from TriMet
These resources will fund operations for one year of enhanced security services.
Why is this important?
The long-term recovery of Portland depends on bringing people back downtown and the hospitality industry is a critical piece of this puzzle. Not only do hotels attract out-of-town visitors, tourism supports a wide nexus of other businesses, including restaurants, caterers, meeting vendors, and more.
This investment is a step to ensuring that residents, employees, and hotel guests feel safe and supports the economic recovery of downtown Portland.