June 3, 2022
3 p.m. @ Shemanski Park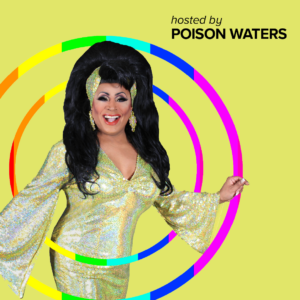 Come along on a bicycle parade commemorating Pride Month and World Bicycle Day brought to you by Downtown Portland and The Street Trust! This fun community event is hosted by celebrated Portland drag queen Poison Waters!
Join us in Shemanski Park at 3:00 p.m. on World Bicycle Day, June 3rd.
This family-friendly event is for everyone! We'll enjoy a stately (i.e. slow) parade of two fabulous miles that will take us past spots from Portland's rich 2SLGBTQIA+ history. The parade will end with a dance party at the Cart Blocks Food Cart Pod @ Ankeny West featuring some surprise guests.
Special thanks to ride ambassadors from BikePOC PNW! BikePOC PNW actively creates space for BIPOC folks to ride bikes, build community, forge life-long friendships, and challenge the status quo.
Need a bike? There are BIKETOWN stations a block in either direction–in front of the Portland Art Museum and at Director Park.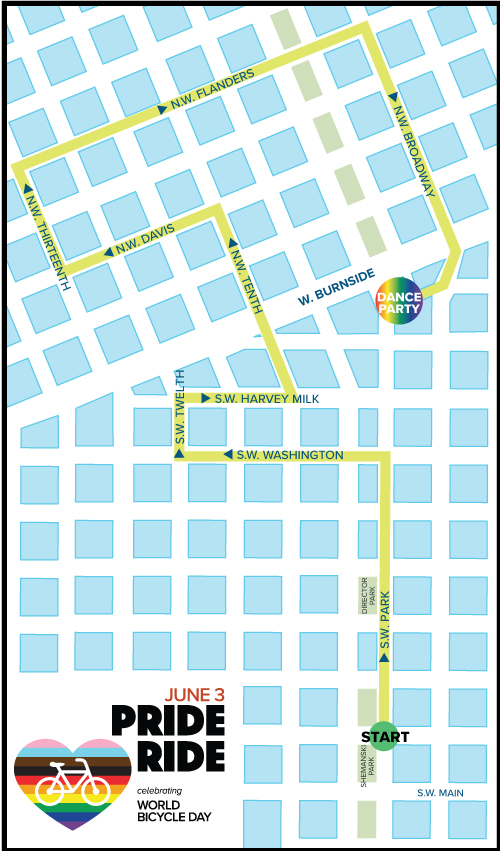 ROUTE DETAILS
Our two-mile route will feature mini dance party stops in three street plazas and take us by points of interest from Portland's 2SLGBTQIA+ past and present, like the office and residence of famed 1900's lesbian Doc Marie Equi; Vera Katz Park, former mayor and gay ally; and Pride Plaza, one of our new street plazas filled with street art, public seating, and community activities.
OUR COMMUNITY PARTNERS:
UMPQUA Bank

The Portland Pickles

Mimi's Fresh Tees

STAG PDX

Darcelle XV

Multnomah County Library

The Green Loop

Supreme Optics

The Gay Beards

The Unipiper
About The Street Trust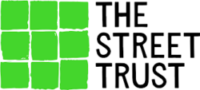 The Street Trust is a membership advocacy organization representing street users from across Greater Portland. We advocate to break the political gridlock to address unsafe and incomplete public streets that threaten lives and livelihoods, and to win policy and investments that save lives, reduce barriers, and expand opportunities to the people and neighborhoods our current system neglects. We envision a complete, safe, low-carbon, multimodal transportation system that contributes to equity in access, opportunity, health, and prosperity for people and communities across the Portland Metro Region and beyond. Visit TheStreetTrust.org for more information.
About the Downtown Marketing Initiative
The Downtown Marketing Initiative is a program of the Portland Business Alliance, Greater Portland's Chamber of Commerce, that promotes Downtown Portland to the greater Portland metro region. Marketing programs include holiday promotional efforts, robust social media messaging, events and programming, seasonal cooperative retail and restaurant promotions, and public relations campaigns to promote Downtown businesses. Downtown businesses may participate in the program at no charge. Visit DowntownPortland.org for more information.