While foot traffic continues to increase throughout 2022, we have not recovered to pre-pandemic levels.   
When looking at foot traffic in Downtown during 2022, the number of people Downtown has increased by 25.7% from 2021. See figure 1. We are seeing trends that show that the city is busier than last year, especially in the spring and summer and our local community is comfortable with attending large-scale events, coming downtown for dinner and entertainment, and gathering for large community events. We notably saw the large increase in Downtown pedestrian traffic in early spring and summer with June being the busiest month of the year with 2.26M visits. See figure 2.  
Downtown Portland Clean & Safe engages with Placer.ai to monitor pedestrian traffic in its 213-Block area district.  We compare our results to past years and with other cities. We monitor the number of people in the Downtown area, the times of day people are in coming Downtown, which days of the week are busier, and the spaces they are frequenting. These are not unique visitors, but cumulative totals. 
Here are the trends within the Downtown Portland Clean & Safe district for 2022.  
We continue to see Downtown and the Old Town areas be the most popular on Friday and Saturdays, indicating people are comfortable going Downtown for special events, dinner, and entertainment. We also saw Wednesday rise to the top as the third busiest day of the week, indicating that the workforce is edging towards a return to downtown offices. See figure 3. 
The Downtown Portland Clean & Safe District is close to 60% recovered from 2019, but we are lagging behind other cities in recovery efforts. Portland in–person traffic for retail businesses appears to be mirroring national trends with a rise in early shopping for the holiday season. Thanksgiving weekend, traditionally one of the busiest weekends of the year for retail, saw a minor increase in foot traffic with an 8% increase from 2021.  These numbers are still down from 2019. See figure 4. 
While in-person traffic was slightly up for the Thanksgiving holiday weekend, retailers reported softer in-person sales. Nationally, this powerhouse weekend saw revenue numbers decline compared to 2021.  There has been an increase in online shopping this weekend from mobile devices, truly showing the rise of omni-shoppers (or omni-channel shoppers) who will shop both in person and on-line.   
When we look at the busiest locations in our District for 2022, we see that much of the downtown traffic is centered around the core of Downtown.  Pioneer Place, with luxury brand retail not found elsewhere in the state (Gucci, Louis Vuitton, Golden Goose), and Pioneer Courthouse Square, with popular concerts and events, are busy destinations. In addition, large national brands like the Hilton Hotel, Nordstrom, MUJI, and even Target are generating a lot of traffic in our center city.  We are also seeing more traffic in small retailers around the 10Y building (new home to Stash Tea) and the retail center around Directors Park (9th & Yamhill). The West End shopping district is also a popular shopping destination and one of the most popular corners to walk or cross into our district is Powell's Books.  
In Old Town, we see an intense center of traffic around the Hoxton Hotel and on Ankeny Street where popular local stores like Voodoo Donuts, Bae's Fried Chicken, AFURI, Stumptown also overlap with locations that are popular evening locations.  The night economy in Old Town is strong and the entertainment district is doing well after 10 p.m. Union Station, not surprisingly, also shows up as a center for foot traffic.  
Here is an intersection map of Foot Traffic in Downtown Portland Clean & Safe District for 2022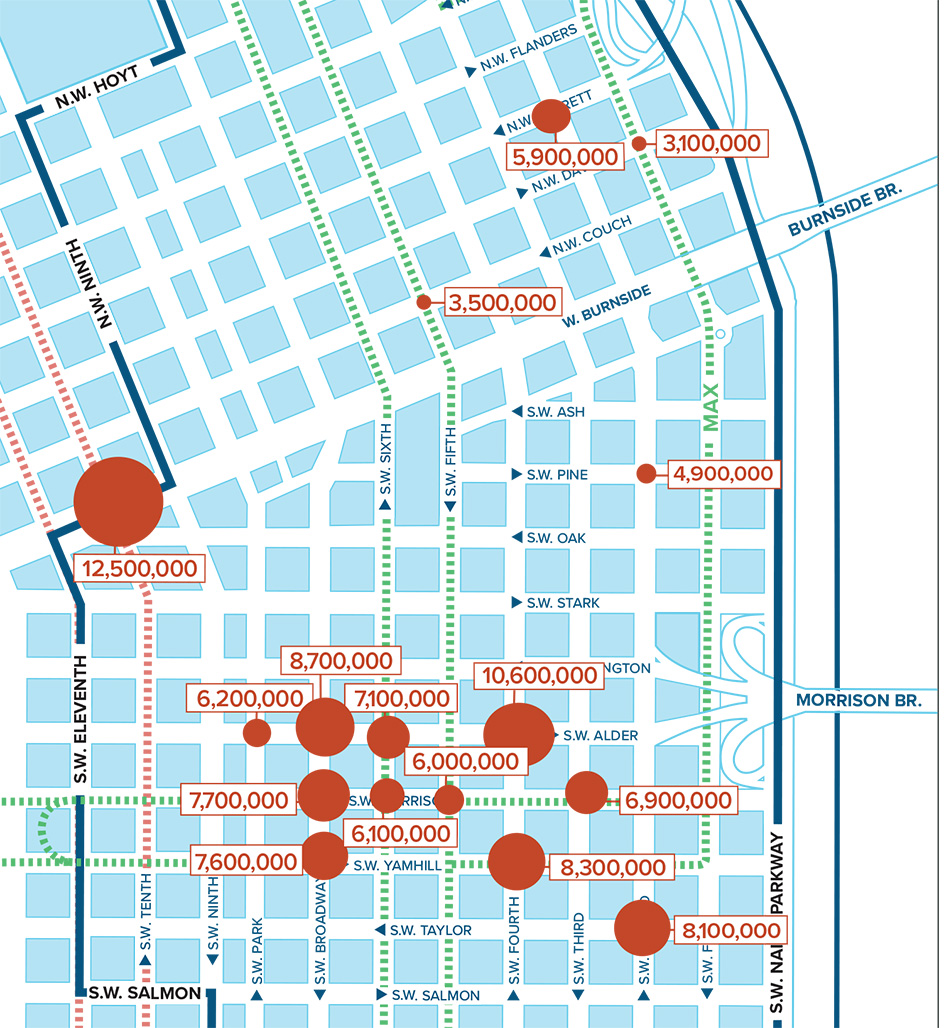 (Click on image to download full map)
Methodology
In the past, Downtown Portland Clean & Safe has engaged with partners to conduct pedestrian counts in Downtown Portland over a three-day period, two times a year. In years past, these counts have been limited by manual counts in 15 key intersections from 7 a.m. – 7 p.m., in December and in June and within the Clean & Safe District – a 213-block enhanced services district in the heart of our city.  
Now using Placer.ai data to monitor traffic and visit trends 24-hours a day, Clean & Safe has expanded its pedestrian count research to look at foot traffic in the entire 213-block district. Downtown Portland Clean & Safe can now compare results from past years and even compare data to other cities, as well as look at times of day people are downtown, which days are busier, and the spaces/venues people are frequenting. Individuals are counted each time they cross into our district or, when looking at particular intersections, each time they cross that intersection.