The PDX Pop-Up Shop program matches local talent and emerging small businesses with temporary retail storefront opportunities in the Central Downtown and Old Town areas and additional mentoring, support, and promotion for emerging new businesses. 
This year, Pop-Up shops will be open for approximately six weeks during the holiday season.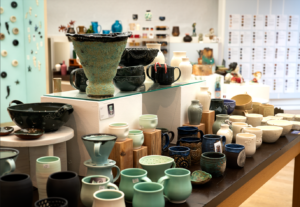 This program nurtures local, Black, Indigenous, People of Color (BIPOC), and LGBTQ+ talent by allowing local entrepreneurs and designers to test and enhance their product line utilizing free or low-cost spaces. Additionally, this program recruits future independent retailers to the area, increases the vibrancy of Central City and Old Town by activating vacant storefronts, showcasing retail leasing opportunities, and connecting emerging retail businesses with experts in the business of retail.  
Participants selected for this program will be provided with free rent throughout the months of November and December. Grants can also be acquired on an as-needed basis for additional support for store improvements and utilities.  
Additionally, selected participants will be provided with: 
Retail space and utilities at no-cost for the duration of the six-week program

 
Robust marketing support

 

A small budget for temporarily 'building out' the space (note: this is typically a couple hundred dollars)

 

Commercial Real Estate/Property Manager support in negotiating future leases within the Clean & Safe District. 

 
Proposals will be evaluated based on their compelling nature, the quality of the merchandise, the business growth potential, and the number of jobs or entrepreneurs supported. Submissions from BIPOC, LGBTQ+, or minority-owned makers are highly encouraged with the goal of attaining widely shared prosperity among all residents of Portland.  
HOW TO APPLY:
Please submit the full online application no later than Midnight on September 23, 2022. You can find the full application here. 
Qualifications: 
Branded merchandise should be unique to the marketplace and not currently carried or represented in downtown retail establishments

 

Merchandise categories that do well include gift items, clothing and apparel, art, home decor and furniture, prepackaged specialty food items. Items under $100 do well.

 

Expected sales should be at least $1000 per week

 

At least 50% of merchandise carried in store should be procured from local Portland, Oregon designers

 

Retail sales, management/organizational experience required

 

Proposals may not be wholly similar to any retail concept that exists or has since closed

 
Proposals will be reviewed by a selection panel made of business representatives and industry professionals, and will be evaluated based on the compelling nature of the application, quality of merchandise, business growth potential, the number of jobs and artists supported, and support for Portland's activewear cluster (PDXactivewear.com) Submissions from BIPOC, LGBTQ+, and women-owned businesses are highly encouraged. 
To learn more, or for questions, contact Sydney Mead, Director of Downtown Programs, at smead@portlandalliance.com. 
Awarded applicants will be notified by October 3, 2022.