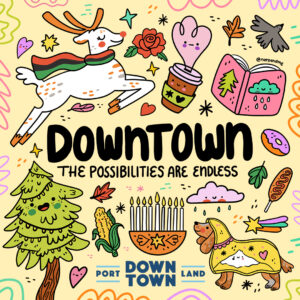 Holiday fun is returning to Downtown Portland once again this holiday season! Bring your holiday shopping lists and support local businesses, pop-up shops, cultural events, holiday lighting, and community activations with this year's theme of Downtown, the Possibilities are Endless, held in the heart of Portland's Downtown core from November 25th through December 31st.  
Mayor Ted Wheeler: "I'm proud to support and help empower local small downtown businesses during the holiday season this year and every year. I encourage you to get out and buy your holiday gifts from a local small business, dine at a local restaurant, attend holiday pop-ups and visit the holiday tree in Pioneer Square. Coming together during the holiday season is at the heart of what makes Portland unique." 
Holiday Lighting 
This year, Downtown Portland Clean & Safe is excited to announce an expanded holiday light experience, over 800 street trees will be lit throughout the Downtown area. Look for a few special light installations, including an interactive singing tree making it will be a notably brighter and more festive Downtown. Traditionally funded by property owners in Downtown Portland Clean & Safe's district, holiday and winter lighting will be enhanced by additional funding from the City of Portland, Portland General Electric, TriMet, and Portland Mall Management Inc. Special thank you to the hard-working team at Tross Build and Maintenance. Their hard-working crews are working overtime to install these additional lights. 
Free Parking Sundays  
Portlanders will also have a chance to enjoy free parking in the five Downtown SmartPark garages on the Sundays between Thanksgiving and Christmas, Nov. 27, Dec. 4, 11, and 18. Parking is free between 9 a.m. – 9 p.m., take a ticket at the gate to enter, but no payment will be necessary on exiting the SmartPark garages.   
Park at these locations:
• Naito & Davis – 33 NW Davis St.
• 10th & Yamhill – 730 SW 10th Ave.
• 4th & Yamhill – 818 SW 4th Ave.
• 3rd & Alder – 621 SW 3rd Ave.
• 1st & Jefferson – 123 SW Jefferson St.
PDX Pop-Up Shops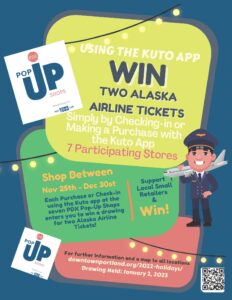 The pop-up shops are back this holiday season, turning Portland's vacant retail space into temporary destinations for local designers and artists to "set up shop" Downtown. Downtown Portland Clean & Safe is pleased to announce this year's holiday PDX Pop-Up Shops line-up. This year, there is added incentive – the chance to win two tickets with Alaska Airlines when shoppers check in or make a purchase using the Kuto app!   
"This year is our largest pop-up shop program in a long time, with seven locations and around 80 small businesses included. I see this program as the grassroots to bringing the retail experience back to in-person," says Chase McPherson, Downtown Retail Advocate for Downtown Clean + Safe. "There is so much going on this holiday season, and I am excited to see the city shine."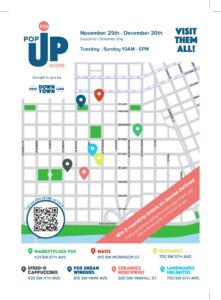 Learn more about our participating retailers:  
Ceramics Northwest

(300 SW Yamhill St.) The Oregon Potters Association returns again this year with Ceramics Northwest. Featuring over 40 ceramic artists from the region, this was a crowd favorite last year and we are excited to have them back Downtown with us! 

 

PDX Urban Wineries

(Director Park, 815 SW Park Ave.

)

PDX Urban Wineries is an association of 16 urban wineries, all making wines inside the city limits of Portland. Each winery operates independently and sources grapes from throughout Oregon and Washington. This unique

pop

–

up

shop will host wine tastings and have bottles for purchase all in one location.

 

Matiz

(10Y Building, 910 SW Morrison Ave.)

Matiz (mah-teez), meaning hue in Spanish, features designs that respect and preserve the indigenous traditions of handmade textiles. Matiz works directly with artisans to bring high-quality, small-batch rugs to Portland and is committed to using materials from the town Teotitlan del Valle near Oaxaca Mexico, which is world famous for its weaving wares.

 

Landmarks Unlimited

(Pioneer Place,

700 SW 5th Ave.)

Landmarks Unlimited is dedicated to creating elevated travel gifts that are focused on destinations and landmarks around the Pacific Northwest. They work to understand what people want to commemorate their travels to curate a unique and refined collection of gifts. They design products as statement pieces that tell a story and pay homage to the landmark's beauty. They are an LGBTQ+ – owned business.

 

Marketplace PDX

(Commonwealth Building,

421 SW 6th Ave.)

Featuring Unordinary Makers Collective, a curated retail space filled with hyper local products and managed by Reeba Daniel. The collective is  j

oined by

Sudara

, Maya Arts,

Whatever Works

, and Essance Skincare. This is our first foray into the world of a Marketplace. We are excited to be working with this unique and amazing group of artists, makers, and local retailers.  

 

Parvaneh

(Pioneer Place,

700 SW 5th Ave.)

Parvaneh is more than a brand. The namesake jeweler is a passionate artist who left Iran with her two children and found refuge in our sweet town of Portland, OR. In leaving Iran, Parvaneh also left behind her Tehran fashion studio, where she developed creations from jewelry and shoes to women haute couture. America's increased gender equality has fostered her ability to bloom and grow her business.

 

Speed-o Cappuccino

(930 SW 4th Ave.)

Speed-o Cappuccino is moving from a flirty coffee cart to a flirty coffee shop. Staffed by nonbinary people, trans and cisgender men they strive to be a welcoming place for all because everyone could use a c

up

of joy along with their daily grind.

 
Kwanzaa Lighting 
Downtown Portland, in partnership with the Portland Winter Light Festival, will light the Morrison Bridge in the colors of the Kwanzaa season from Monday, December 26- January 1, 2023.  
Other Holiday Events: 
In addition to holiday shopping opportunities, there are many entertaining experiences planned throughout the holiday season: Kudos app raffle for PDX Pop Up shops, shop local and small with Shop Small Win Big, Hipster Santa at Pioneer Place Mall, Menorah lighting, new and reopened retail shops and more!  
"The holidays are a magical time of year," says Downtown Retail Council (DRC) co-chair Jessica Curtis, General Manager at Pioneer Place. "Pioneer Place is celebrating with gorgeous new holiday décor, indoor snow shows, and traditional and/or Hipster Santa! Santa will make the shopping center his home from December 1 through Christmas Eve. We encourage those interested in meeting Santa or getting a photo with him to make their reservation on our website." 
Holiday Tree Lighting – On Friday, November 25, from 5:30 pm – 6:30 pm, the 38th Annual Tree Lighting Ceremony, sponsored by SmartPark, will be held at Pioneer Square. Click here for more information.   
Menorah Lighting – Chabad of Oregon will light Portland's Public Hanukkah menorah at Pioneer Courthouse Square. On the first night, Sunday, Dec 18th, at 5:00 p.m. there will be live music, Chanukah foods, dignitaries and festivities to kick off the eight nights of Chanukah. Click here for more information.   
Downtown, the Possibilities are Endless is focused on strategic collaboration and promotion of our community partners' events that include all of the quirky and unique things that make Downtown a memorable holiday destination. 
This holiday season, activities are made available through the Downtown Marketing Program, the Portland Business Alliance, the Downtown Portland Clean & Safe district, and various community partnership activations. Throughout mid-November and December, retail events and promotions will be updated regularly at DowntownPortland.org, and on Instagram, Facebook and Twitter. 
For more complete and updated information on these campaigns and other Downtown happenings, visit DowntownPortland.org or follow us on Facebook at Visit Downtown Portland, Instagram at @downtownpdx, and Twitter at @inDowntownPDX. To participate in the conversation and follow the campaign, use #downtownpdx, and #PDXPopUpShops. 
 
### 
Media Contact: 
Sommer Martin, Director, Downtown Marketing 
Downtown Clean + Safe 
Sydney Mead, Sr. Director, Downtown Programs 
Downtown Clean + Safe