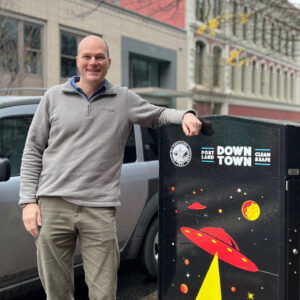 It is my pleasure to present our annual impact report for the Downtown Portland Clean & Safe Enhanced Service District (ESD). As part of our updated contract for management services for our ESD, I am proud to share with our ratepayers and downtown community, a detailed review of our programs, services, and operations.
Key to this report is our updated contact implementation and compliance work.  We made promises and commitments during our contract renewal to follow the City's sustainable procurement and labor peace contracting requirements and those promises have been kept. We have updated and modernized our Public Safety Program to provide a compassionate and professional service to all members of our downtown community while following an updated and detailed scope of work.  We are embarking on a brand-new program for our most vulnerable community members with our Community Health Outreach Worker (CHOW) program in partnership with our newest vendor, Bybee Lakes Hope Center.
Our downtown district has endured continuous crises from the pandemic, political violence, ice storms, and historic wildfires. The community who funds our ESD programs have seen dramatic increases in both property and person crimes, chronic illegal street camping and debris often completely blocking public rights-of-way, and a reduction in essential public safety and basic city services.
ESD's are not and never were designed or funded to take on the tremendous additional burdens of addressing and responding to these many additional strains on our economic viability and livability. However, my tireless staff and the work of dozens of amazing cleaners and safety coordinators have risen to this challenge to support our downtown community.  I am also thankful and grateful to be working so closely and in continued partnership with our elected officials, public safety leaders and community partners to address these challenges.
I look forward to many future years of serving our downtown community and the City of Portland.  It is through public-private partnerships that our downtown will recover and businesses will thrive.