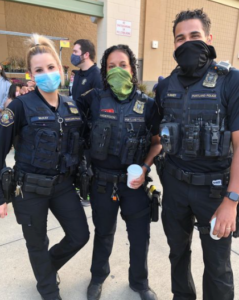 Why is the Central Precinct Bike Squad Crucial to Portland's Recovery Efforts?
Portland's small yet mighty crew of bike police officers are fully trained PPB sworn police officers focused on de-escalation and quick-response to calls within the Downtown and Old Town districts. The 2800 Bike Unit is currently staffed with a sergeant and four full-time bike officers who are assigned to Central Precinct. Not restricted by the confines of a police patrol vehicle, the officers' proximity to business owners, residents, and neighborhood streets makes them Portland's true community police officers. As livability and recovery efforts continue to take charge across the Downtown and Old Town districts, knowing a bike police officer's daily route or being able to call them by name can make a world of difference during high-pressure, emergency situations. In the past few months, officers within the unit have proactively taken on street crime and responded to a variety of accidents.
Bike officers regularly locate stolen cars and arrest suspected car thieves, including at least six in the past month.  One of the arrested suspects was also suspected in a shooting, and another arrestee was wanted on other charges.
Officers arrested people suspected to be involved in other serious crimes. In three separate cases, officers arrested people wanted for burglary, arson, and robbery.
A female was caught on video breaking out more than one dozen windows at the Roseland Theatre. Within hours of this crime, bike unit officers identified and arrested the suspect.
Bike officers regularly recover stolen property. In one incident, officers recovered a stolen bike.
Bike unit officers regularly identify and cite subjects who are possessing and using drugs such as heroin and methamphetamine.
It's evident that the work these officers are doing is impactful to the safety and recovery of our communities. As Portland aims to rebuild trust between residents and patrol officers, maintaining a unit that can listen to concerns face-to-face and address issues promptly is a step in the right direction.
Future Funding for Central Precinct's Bike Squad
Recently, both Clean & Safe and the City of Portland agreed to develop a plan to transition the funding of the bike patrol positions away from Clean & Safe and back to the City. At the request of the City, Clean & Safe stepped up to fund this unit and several other city positions back in 1997 when the City indicated the positions would be cut due to budget restrictions. As the transition takes place, maintaining the level of police services currently available in the downtown area remains a top priority for all of the organizations involved.
Further information about the tentative agreement and for details on how to provide written comment on the future of the Central Bike Squad unit can be found at: www.portland.gov/omf/cleanandsafe, or by contacting the Enhanced Services District Coordinator at shawn.campbell@portlandoregon.gov.