Downtown Portland is excited to sponsor Paseo, a new festival and community gathering July 15-17 presented by Portland Parks Foundation (PPF) and PGE . The event is free to attend! Paseo will feature music, dance, spoken word, drag, and other creative forms, along with yoga and healthful, family activities in the heart of downtown at the South Park Blocks and Director Park. To learn more, visit www.paseopdx.org.
Inspired by the Spanish evening stroll that reawakens the city, Paseo is the first major downtown arts festival to be conceived and curated by a steering committee of BIPOC social justice and arts leaders.
"Our collective goal with Paseo," according the PPF's executive director Randy Gragg, "is to center artists, organizations, and grassroots parks, health, and aid groups from communities traditionally disenfranchised from the financial and cultural center of the city. We want to heal our downtown by bringing it back, but also by bringing it forward."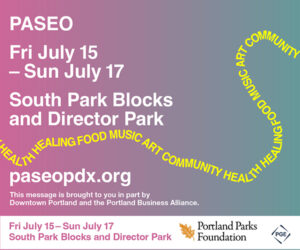 Featured artists: Madame Golong, soul singer LaRhonda Steele, Chilean/Mexican hip hop duo Alta Vocez, rapper Sotae, violinist/vocalist Chibia, jazz multi-instrumentalist Machado Mijiga, dance by Shaun Keylock, Beautiful Street, and BodyVox JAG, a tango milanga by Tango Berretin, street murals by IdealPDX, among many other emerging and established talents.
"It's been a source of joy to be able to bear witness to such a vibrant collection of people collaborating to get our city on track," according to Andre Middleton, Executive Director of the youth music non-profit Friends of Noise and Paseo committee member. "The team at the Portland Parks Foundation really put in the effort to engage a diverse pool of artists, vendors, community-based organizations so that Paseo reflects the best of what Portland has to offer."
Music and dance stages will be the Portland Art Museum and Director Park with Shemanski Square entirely devoted to Indigenous performers and vendors, including elder poet/storyteller Ed Edmo, multi-media DJs Roots & Beats, and "Here, Queer, and Indigenous: A two-Spirit Drag Show." As well, Paseo will feature family-friendly activities and information booths by Forge Hot Yoga, National University of Natural Medicine, Hunters of Color, Sail2 Change, Red Cedar Forest Therapy, Bookmobile Babe, Green Lents, Portland Fruit Tree Project, and many other organizations devoted to parks, outdoors and mutual aid.
Paseo was co-curated by a 14-member steering committee that included Ambush, The Numberz; Darryl Ramsey, Outdoor Afro; Subashini Ganesan, Portland Creative Laureate Emeritus; Stephanie Parrish, Portland Art Museum; Chie Togo, Forest Park Conservancy; Andre Middleton, Friends of Noise; Sarah Clarke, Musicians in Solidarity; and Tai Carpenter, Don't Shoot Portland, and Amanda Stubitz, along with Paseo's producers Michelle Comer and Carolina Soto Nasciemento of Vida en Color.
Paseo 2022's Presenting Sponsor, PGE, is joined by major financial from the City of Portland and The Standard, with additional support from Columbia Sportswear, Travel Portland, Travel Oregon, ACME Construction Supply, Prosper Portland, Portland Business Alliance + Downtown Portland Clean & Safe, PepsiCo, Omnivore, Moda Health, Downtown Development Group, Melvin Mark Companies, and many others.
The journey to Paseo began in 2021 when PPF assembled a series of "Think Tank" discussions on what a new downtown event might be with BIPOC leaders in the wake of Summer, 2020's civil unrest after the murder of George Floyd. Out of those discussions, a steering committee emerged to create Paseo 2021, a 2-day August, but the Delta Variant's surge forced pivot videos from the artists collectively called Paseo Mutual Aid Challenge!
About Portland Parks Foundation: The Portland Parks Foundation mobilizes support to improve Portland's system of parks, natural areas, and public spaces. We help Portland communities create more equitable access to nature, play, health, and places of connection. To learn more about our mission and programs, visit www.portlandpf.org.
For media contact:
Randy Gragg, Executive Director
Portland Parks Foundation
(503) 445-0994
info@portlandpf.org