I had no real direction once I found a park. Construction mixed with foot traffic and the outside seating on the street made me dizzy. Where are all these people coming from? Then, I had to smile to myself. A thriving, boisterous hub that is historically Downtown felt like it was making a come back. I was ready for a new excursion, so I decided to follow the sun. 
After a brief walk south and a right turn, I entered a traditional Syrian-Lebanese restaurant tucked into the middle of Morrison. As you enter Habibi Restaurant, the uptempo pop-Lebanese style music made me want to get in the middle of the floor and give the people my hip-hop version of Dabke but decided not to embarrass my mother, who I brought with me on the trip.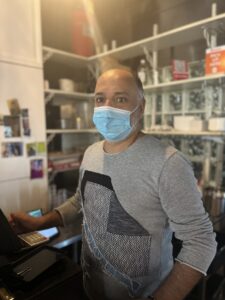 We were greeted warmly by Leo, the owner, and seated immediately. The restaurant was way more extensive than I expected. It had the central section, an upstairs section, and an entire section in the back with a full bar, and everything was trimmed in gold. I fancy myself a pescatarian, and Habibi has a vegetarian's wildest dream menu. It featured Baba Ghannouj, lentil soup, veggie kebabs (and meat options), and the list went on and on. . . and on.
I ordered fresh mint tea, a ginger beer for mom, Baklava, a falafel sandwich, and a veggie platter of fresh Tzatziki, regular and roasted hummus with a drizzle of olive oil; grape leaf wraps stuffed to the brim with rice, some fancy deep-fried pocket thingamajigs stuffed with beans, and a fresh, delicious tabouli-esque salad.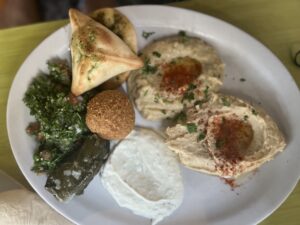 How good was it? My mother is a classically trained chef (and is a tough crowd to please) didn't speak to me the entire time she ate. So, yeah.
We ended our visit and Leo gave us a sincere invitation to come back along with one of the warmest hugs on our way out. Habibi felt like we had found family. Did you know Habibi translates to darling in Arabic? How fitting!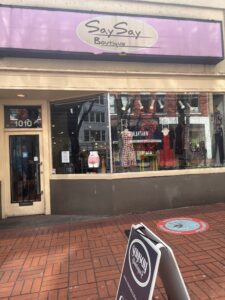 Next, we went directly next door to co-owned SaySay Boutique, a sister co-owner duo running a women's clothing store specializing in Portland-style clothing by independent designers.
I've heard of SaySay Boutique, but I never really knew much about them. I was pleasantly surprised! It had the cutest printed dresses lining the walls in the front windows. The boutique also had racks of statement socks like "Anxious and Sexy" and I had to buy them because hellooooo? Have we met? To me, SaySay Boutique is the place you go to find an outfit for brunch with the girls on a Sunday in springtime.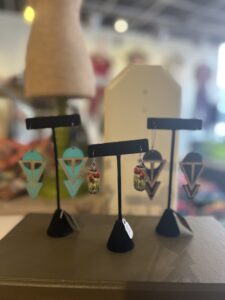 If you are a fan and collector of jewelry, be it fine or costume, SaySay has art deco earrings along with music notes, solar systems, fruit, and flowers. All for $16 each! Buy an outfit, grab some jewelry or pick up a nice candle (or statement socks) as a gift on any budget. 
I was ready to end my excursion until I saw a shop with sprawling plants and scooters parked on the sidewalk right across the street.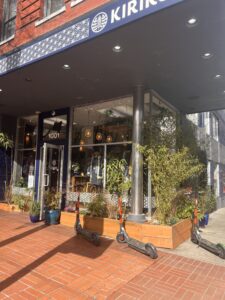 Originally thinking Kiriko Made was a Greek shop but was blown away when I walked in to find it was a Japanese store focusing on fabric and zero waste products. I was dazzled by the number of fabrics, sultry incense, jewelry, and handmade gifts ranging from tea kettles sets to animal statues placed strategically from the top to the bottom in nooks around the store.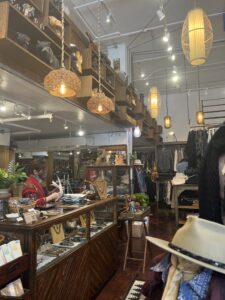 I took a look at the t-shirts and jackets, and I learned the pieces were "made memories with their belongings instead of replacing them with mass-produced goods." There were so many pieces that I decided I'd have to schedule another day just to come back and look through the other half of the store! 
The moral of the story, explore Downtown. There are so many cool shops, restaurants, and people to meet if you just follow the sun.
If you or another business you know is interested in being visited, please email Sommer at smartin@portlandalliance.com.  
About Sommer:
Sommer Martin is a Director, Downtown M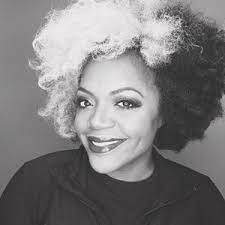 arketing for the Portland Business Alliance where she develops and manages seasonal marketing campaigns designed to promote Downtown attractions, businesses, amenities, events, experiences as well as parking garages and parking validation within designated market areas.