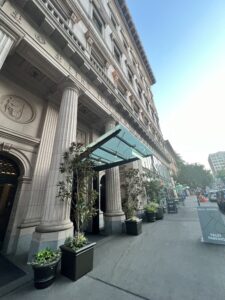 Friday couldn't come fast enough. I often visit places Downtown, but never a staycation. When my mother heard I had a double bed reservation at The Sentinel Hotel, in true fashion, my getaway became hers, too.
We arrived (she last minute decided I was going to drive) outside the hotel at sunset on a quiet street and were immediately greeted by a valet. My first observation of  The Sentinel Hotel is this place looks and feels like rich Portland history. I hope to God it's haunted.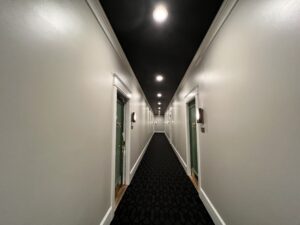 Walking through the revolving doors opening into shiny floors, unbelievable high ceilings, floor-length curtains, brown and dark green leather furniture, and illuminating lights gave the space a luxurious, old-fashioned realness. We checked in and started upstairs to drop off our overnight bags. Exiting the elevator, we walked down a hallway that, I kid you not, was the same hallway from The Shining but like in the best way.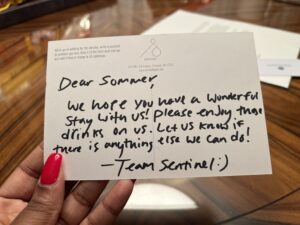 I swiped the room card and flung the door open. Where are the ghosts? No? Whatever. The room was large and cozy and overlooked the steady moving foot traffic on the street. "I want my bedroom to look just like this!" plopping down on the furthest bed and kicking her feet up, exaggerating her satisfaction. By all means, mom, take the bed I want. There was no time to settle because our dinner reservations were at 7 pm downstairs at a popular eatery called Plant-Based Papi inside the Fortune hotel bar.
The elevators opened, and I could hear Paradise by Sade rolling softly through the most inviting hallway decked out with rugs, lamps, and little reading nooks on both sides. We made a left at the end of the hall, and I let out an audible gasp. This is a bar. Mood lighting and mahogany wood from here to Timbuktu, depending on what side of the room you're on, this bar could easily be a trendy Los Angeles meet-up, a Miami hotspot, or a 1930s New Orleans speakeasy.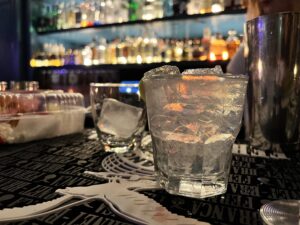 We were greeted warmly by Makenzie, the bartender, and handed a menu for drinks and the menu for Plant-Based Papi. Mom ordered a ginger ale and three street tacos, and I ordered the Nashville Hot Chick'n with fries and a few sides of Gin + Tonic. Judgment-free zone. We were handed a table number and headed for the couch in front of the fireplace and flat-screen TV, and before I knew it, my mother found her way to vinyl DJ Bryson Wallace and left me to man the seating. 
I fancy myself somewhat of a sensual person, and this place hit every note. While jamming to the music, I looked around to take in the spot. Fortune is beautifully designed with dark wood floors, soft plush couches, shades of turquoise, ficus plants, neon lighting, art deco lamps, and snazzy wallpaper. I kept getting this intense wafting of a beautiful campfire scent from the kitchen, another room, or a very fierce plugin, but it was stunning.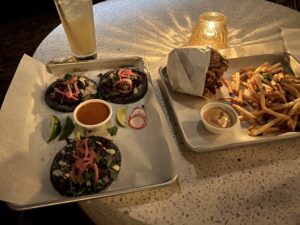 I sipped on my Gin + Tonic number one and thought, wow, Mackenzie made this drink as if she knew me. Mom pranced back to our section just in time as the server brought over our food. Her tacos were chili roasted jackfruit, Three Sister Nixtamal Blue Corn Shell, pickled onions, cilantro, cashew cheese crumbles, Jalapeño crema, and chili seasoning with a side of what tasted like Cabo dipping sauce. My Nashville Hot Chick'n sandwich was HUGE! Described as Dos Hermanos Brioche Bun, chicken fried oyster mushroom, Nashville glaze, angel-hair purple cabbage slaw, spicy mayo, and Kosher pickles with fries.
Mom took a bite of her taco and went silent. She closed her eyes and chewed in disbelief. Mom is a classically trained chef and hard to please, so her reaction said everything. I took a bite of my sandwich, and the next thing I remembered, it was gone! Plant-Based Papi was so delicious that I decided I would transition from vegetarian to vegan if I could re-create this type of food. "Where is the chef? You need to meet the chef." I recoiled at the thought. "Mom, I think he's busy." She thinks for a split second, looks over our eaten meal, and responds," I think you should meet the chef. I'll be right back," as she jumps up and walks back over to Makenzie at the bar. *Update. . .he was busy. 
After our fill, it was time to head out on the town. We said our goodbyes and danced out to Hangin' On a String by Loose Ends. I wanted more pictures of the hotel lobby, and again, mom wandered off. Where is she now? "Hey, Sommer?!" she called from down the opposite hall. "You have got to see this." It'd better be a ghost. I walked closer and could barely hear what sounded like gentile tapping of bongos and low singing. She turned around wide-eyed and said, "This is the spot of my dreams!"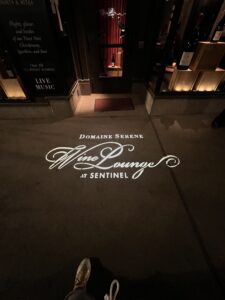 We walked down the stairs into the dark and intimate room of Domaine Serene Wine Lounge. The Lounge had a complete opposite feel from Fortune, where the space welcomed an after-date night atmosphere. You know, like when the date is over, but you are enjoying yourselves so much you aren't ready to go home? We were quickly seated to the right of Cuban Music PDX.
I ordered a glass of Rosé, which I didn't look at the price because mom decided she was treating me, and I wouldn't turn down a free glass of Rosé because I knew I would need it to babysit her and her shenanigans for the rest of the evening. After I placed my order, I turned my attention to the most relaxing display of warm rhythmic drumming and singing. By this time, I could have left The Sentinel and gone back home and still had a fantastic time, but an overnight stay (and possible ghost sighting) was the mission. 
I finished my Rosé, and we walked around Downtown Portland sightseeing. I kept a close eye on her to ensure she didn't SQUIRREL and walk off somewhere interesting and leave me looking around in circles. We returned to our hotel room and turned in for the night, which was great because I was overstimulated by the fun and ready to rest in my big comfy queen-sized bed. In the middle of sleep, I was awakened by the oddest noise. My heart started beating fast. I cracked one of my eyes open 1000%, hoping to catch a glimpse of a ghost or gremlin lurking around our room. Nope. It was mom propped up on her pillow, chewing mixed nuts and opening the loudest bag of chips known to man with her eyes closed. I shook my head, closed my eyes, and turned back over. These hotels aren't haunted like they used to be. 
Mom must've had a great night upon waking because the party kept going. I awoke to portable speakers playing Mary Jane by Rick James and her dancing around our hotel in her pajamas like a psychopath. Around 10 am, we decided it was time to order some room service from Jake's Grill downstairs inside the hotel. Bless the front desk person who took our order. She, while I had them on the phone, wanted to order off the lunch menu. After realizing she wasn't going to get her way, she finally, after 15 "um's", wanted pancakes that offered a choice of bananas OR blueberries, but she had to have the pancakes with bananas AND blueberries because she lives to be difficult and raise my blood pressure. I ordered a Denver omelet with no ham, with a side of breakfast potatoes and orange juice. Before she could get back deep into her dancing groove, we got a knock on the door. Our food!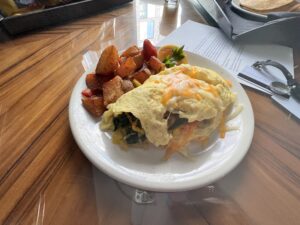 We sat at the table with the windows open, the news on mute, and the music in the background. We reminisced on all the fun we had meeting new people, enjoying delicious food, drinks, music, and the beautiful and festive Downtown Portland nightlife. The pancakes engulfed the room with a sweet buttery aroma, only described as waking up from a sleepover at grandma's house on a Saturday morning. I took the metal plate cover off my food and inhaled the scent of eggs, sweet peppers, onions, spinach, mushrooms, cheese, and crispy potatoes. Mom lifted up these beautifully prepared pancakes with her fingers, and her attitude shifted from festive to seething anger. "They forgot MY BANANAS! . . . Oh, no. Wait. There they are!" Satisfied, she took a bite and started humming. 
We finished our food, dressed, and went down to check out. I thought it would be some long, drawn-out process, but nope. I gave the front desk person our keys, they punched in a number or two, and we were all set to go before running into William, Director of Guest Services of The Sentinel. Do you ever feel like you know someone from a different time in space? They were so sweet, funny, and personable, like we were and have been familiar with for years. They started a lively conversation with us about traffic, living in Portland, food, and the weather. It was cool to be seen as a person and have someone genuinely interested in me beyond just saying hello in passing to a guest.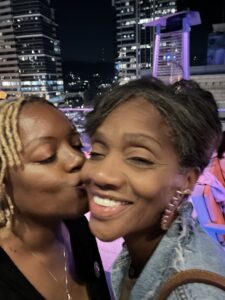 After conversing, we decided we would continue our exploration of Downtown by doing some shopping, but first, we had to get the car which, by the way, was already parked outside by the valet without even handing them our ticket! I can't recall the valet's name, but I remember he was a retired fireman, and my mother wouldn't stop smiling in his face. My father is a former fireman. I think my mother has a thing for firemen. I digress. Anywho, we jumped into the car and bopped around to stores in the Downtown core to do some retail therapy; that was the cherry on top of our little mother-daughter staycation and the only horror I experienced this weekend. . . was my mother. 
If you want me to come and visit your business in the future, please email smartin@portlandalliance.com! 
About Sommer: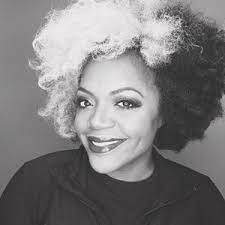 Sommer Martin is a Director, Downtown Marketing for the Portland Business Alliance. She develops and manages seasonal marketing campaigns designed to promote Downtown attractions, businesses, amenities, events, experiences, parking garages, and parking validation within designated market areas.