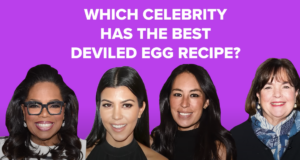 Last Wednesday night, I lay in my bed with salt and vinegar kettle chips, teriyaki mushroom jerky, chocolate turtles, a Hostess Berries + Cream Danish, and a tall glass of orange + vanilla-flavored sparkling water. I propped myself on a pillow with The Babadook playing softly on the TV in the background. On my phone, I was down a rabbit hole watching the Tasty Channel on YouTube on which celebrity makes the best something or whatever. I fast-forwarded through a few of the videos from best macaroni to best ribs and stopped on the best deviled eggs recipe between Kourtney Kardashian, Joanna Gains, Ina Garten, and Oprah Winfrey. Oh, I had to watch this! And I did. Three times. I woke up this morning with snack wrappers stuck to my skin and one thing on my mind: deviled eggs.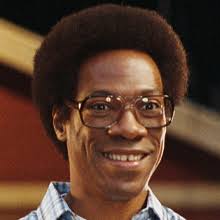 The next morning, I dragged myself out of bed and got dressed, thinking of deviled eggs with the same intensity as Norbit excited about Tuesday. After completing light tasks at the office, I researched which restaurants have deviled eggs on their menu in Downtown Portland, and I found a restaurant not too far from me called Swine Restaurant, Moonshine & Whiskey Bar. Yep, it's happening. I ordered a car to meet me downstairs in front and was whisked over to the restaurant inside The Paramount Hotel.
It's closed. There are plenty of other restaurants Downtown serving deviled eggs during lunchtime, right? I went to order another car, but the wait time was some astronomical number for some stupid price. I shrugged and began walking. . .and walking. . .and walking. . .aimlessly trying to find a menu to a restaurant open with deviled eggs. Nothing. I looked up from my phone and spotted The Moxy Hotel. They look pretty swanky. I'm sure they have them on the menu! 
They didn't. The lady at the bar can see my frustration. "We don't have them on the menu. However, there is a new restaurant right around the corner that has them." I lit up. "Yes! What's it called?" She took a moment to think. "It's called City Bridge + Tunnel." I was so delighted I could've done a breakdance in the middle of the floor. With newfound confidence, I sauntered out of the hotel lobby bar and pulled up the restaurant website.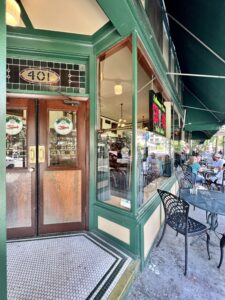 It was closed. If my new phone weren't worth a mortgage payment, I would have chucked it across the street and watched it crack into a million pieces. I was livid. Don't care how, I want it now! At this point, I began to panic. Maybe Cheryl's on 12th? They have bougie food, maybe there? Checks menu. Grinds teeth. I was going to blow like Mount Vesuvius.
I walked past Cheryls, looking for restaurants and scouring their menus. Where can a girl get a deviled egg in this godforsaken town? I was a crazed lunatic! Frustrated and hungry, I gave up and walked into Jake's Famous Crawfish.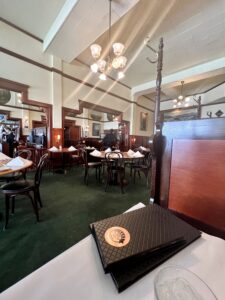 I smiled, wondering what kind of cool people traveled through the doors and sat in those seats in the 130-year history. I am convinced this is where the "wise guys" ate back in the day. The wait staff walked with intention with one hand behind their backs, dressed in black trousers, white suit jackets, and complete with black bow ties. The green pool table-like carpet and old wood touched everything. There were place settings, white table cloths, stained glass decoration on the arcs, and the booths squawked like old church pews when I moved. This restaurant is the definition of nostalgia.
The central air was on, and I leaned back, listening to the upbeat dinner jazz music. I studied the painting in my booth, looking for little Erica trapped in the painting in The Witches movie. Nope, she's not there. I took a look at the menu. I sat up. What if, just if, there are deviled eggs on this menu? That would be the BIGGEST coincidence in the world.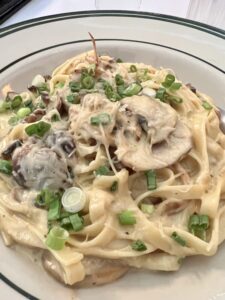 It didn't. When the waitress came by, I ordered a Sprite, the wild mushroom pasta (no salmon) with a caesar salad to start. The salad was cold, crisp, and had the perfect parmesan-to-dressing ratio. I ate the salad and went straight to the pasta without skipping a beat. You know what would be great with this? Deviled eggs. My inner saboteur was loud. I shook my head lightly to quiet it down and turned my focus to the show's star. 
The pasta was rich, piping hot, cheesy, full of meaty mushrooms, flowered with green onions(that I scooped out), with a faint hint of lemon. Delightful! After finishing my food, I slurped down my drink and called a car to come and pick me up. The car was 20 minutes away. Arg! Frustrated, I started walking—no real destination in mind. I needed to do something and not stand on the corner looking stupid with Herbie the Food Baby sticking out of my summer dress.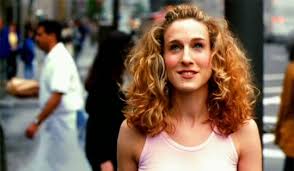 I started walking east past Pride Plaza, and for some reason, I kept walking. With every block, I gained a little more energy. I smiled a bit more. I stopped and spoke into my phone. "Hey, Siri? Play something I like." Within seconds, Closer by The Chainsmokers feat. Halsey began blasting into my ears, and I was walk-skipping through Downtown Portland like Carrie Bradshaw at a corner in Manhattan.
I canceled my car service and took in my surroundings. Downtown is charming. People are walking around in their office attire, families with kids running around, beautiful old buildings, and a large group of people sitting in chairs hanging out at The Square. The sun was shining, and I was feeling good. Still didn't find any deviled eggs. My inner saboteur was back. Ugh! I rolled my eyes before entering The Fossil Cartel.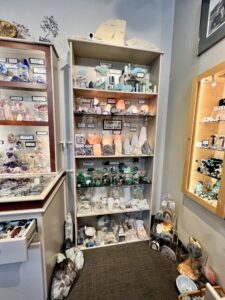 This store can only be described as walking into a room and being b*tch-slapped with positive energy. "Hi, welcome in!" says red-headed curly angel Anne. "Let me know if you have any questions!" I thanked her and began walking around this store in awe of all the beautiful, dazzling stones from floor to ceiling.  There were mounds of bracelets, necklaces, stone-shaped hearts, colorful rings, pointed, smooth, rugged, blues, greens, golds, purples, pinks, orange, clear, and any gemstone known to man. That stone is small, round, smooth. . . like a deviled egg. I had to chuckle. My inner saboteur tried its best to ruin this moment for me but failed. I was standing in the middle of the store, and it was vibrating.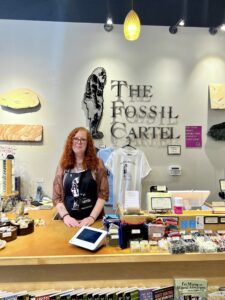 I waved Anne over to help me look for something special. "I'm looking for something to help me gain more confidence in myself…" My voice began to crack. "Woah." My eyes began to burn, and I blinked back tears. "I am so sorry. I don't know where that came from." In a calming, reassuring tone, she said, "Don't worry about that at all. If you only knew how often that happens to people when they come here." She smiled at me. "Let's find you something."
I followed her around the store like a baby duckling as she gave me expert advice on different stones I could keep on my person to help with confidence and comfort as I transition into this new, more assured being. I picked a Tiger's Eye pendant necklace, a Mookaite bracelet, and a Calcite ring. I paid and promised to return as I walked out the door. I needed something sweet to reward myself for the impromptu spiritual work I had just experienced. I was over trying to find "demon" eggs.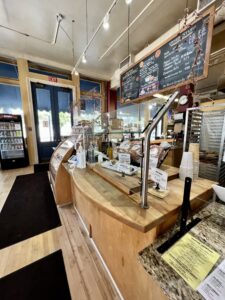 The Great Harvest Bread Co. was on the corner, almost like it called me to come in. It smelled so good! I walked in and made a beeline to the glass case. The lovely lady behind the counter greeted me and gave me a quick spiel on the tasty treats available. After looking back and forth at the cases like I was at a tennis match, it was between the lemon tart or the cinnamon roll. Hmmm. "I'll take the cinnamon roll!" She punched in a few numbers, and I tapped my debit card. "Would you like a fork to eat it with?" I shook my head no. "I'm going to eat it with my bare hands." Brief moment of silence. She nodded in agreement as if she were the teacher and I was her grasshopper. "Ohhh, yes," she said, pushing the treat towards me.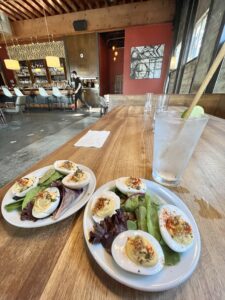 When I returned to the office, I felt all over the place. Frustrated yet oddly grateful. The rest of the day was a blur. The time had come to log out for the day, and I hopped into my car and went bumper-to-bumper down Burnside, headed home. As I crossed the bridge, a bolt of lighting interrupted my thoughts. RONTOMS! Rontoms has deviled eggs! With one right-hand signal and a swoop of my car, I paid the Parking Kitty and walked through the doors in three giant steps. I was laser-focused on the bar. "Hi, can I have an order of deviled eggs?" The bartender, stunned by my intensity, answered," Sure." with a shrug. "You know what," I added, "Better make it two." 
*If you or a business you know of would like me to come and visit, please email me at smartin@portlandalliance.com. 
About Sommer:
Sommer Martin is a Director, Downtown M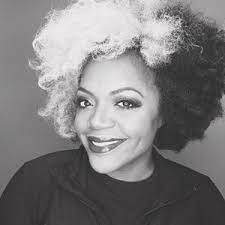 arketing for the Portland Business Alliance where she develops and manages seasonal marketing campaigns designed to promote Downtown attractions, businesses, amenities, events, experiences as well as parking garages and parking validation within designated market areas.