Sometimes, the weight of the world is too heavy. Pressure from every direction had gotten the best of me, and I needed comfort. If you're anything like me, you are an emotional eater. No donut or fruit parfait would do the trick to bring me out of my funk. I was in search of some serious sustenance.
I pulled in across the street from the library to a place called The Daily Feast. Walking up to the restaurant, I could smell the fried bacon wafting from the vents and I considered going back to eating meat. Entering the establishment, it felt old-timey yet updated? Like old Portland meets new Portland, but they don't clash; they found a way to mesh well? Go figure.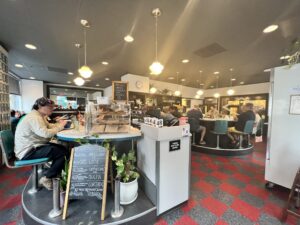 Entering the restaurant felt more like a small diner you'd see in a tv movie, there was soft Neo-Soul music playing from the speakers; it was a nice mix of cultures represented, and everyone seemed to be enjoying themselves.
I first noticed the checkered red and gray floors, bar stools, lavender sprigs in mason jars, clanking dishes from the kitchen, and folks piling food into their mouth and smiling at me whenever I would catch a satisfied eye.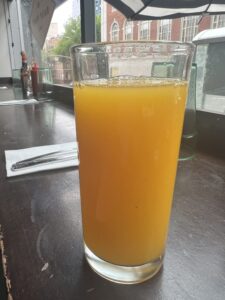 The hostess seated me immediately. It took me no time to order an orange juice and vegetarian omelet. The orange juice came out first; honey, let me tell you, Trader Joe's has some competition! It was fresh and cold and the first step towards a better attitude. "You smell so good!" I turned around to see whom he was talking to. "Me?" The server nodded emphatically. "I smelled you when you walked into the door." He said, in a non-weird way. I blushed. "Aww, thanks. It's Dove."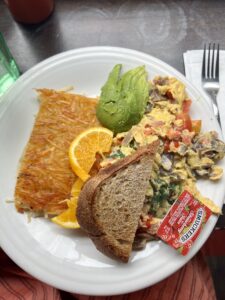 As soon as it landed on my table, I leaped into my food and knew instantly why it made the other customers look happy. The hashbrowns were cooked perfectly and crunchy on one side, the omelet was packed full of colorful veggies and seasoned to perfection, with a side of creamy avocado, and crispy wheat toast. My soul was satisfied. After filling up, I was ready to take on the day.

By lunchtime, I was losing steam and ready for another uplifting culinary experience. This time, I was searching for something lite, full of flavor, and could give me the strength to improve my mood. What's better than ramen?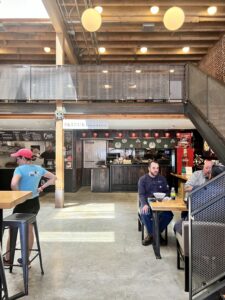 There is a walk-in sort of restaurant/bar called Portland Food Hall. It was shocking to me because I never go past the Luc Lac window! My co-worker, Sydney, and I busted in like we owned the joint. She went directly to the Bobablastic drinks, and I went for Kizuki Ramen + Izakaya.

I ordered the veggie ramen, defined as slightly spicy, all-vegetarian shiitake mushroom and kelp stock flavored with miso and thickened with soy milk and ground sesame seeds. Uhhhh. Yeah.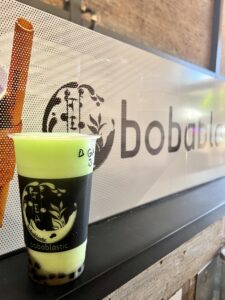 I met Sydney at the Boba drink station and ordered something I can't remember, so I will call it Green. I shoved this gigantic straw through the top of the plastic cover and drank and chewed this fresh, cold drink letting the drink freeze my throat until I heard my name being called across the room. The ramen was ready.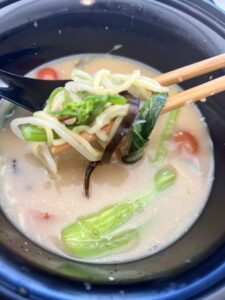 My resolve returned to homeostasis after the first bite of my savory, hot soup. The broth was light in color yet bold in flavor. The chef did not skimp out on the miso and had enough garlic to kill a vampire. The veggie selection was crisp and fresh, and the noodles were chewy and plentiful. I tried my best but couldn't finish it. Oh, I and this bowl of ramen will have a weekly love affair.

Lastly, how will I top off my foodie in a good moodie experience for an early dinner? It was as if my feet began to move, and somehow, I ended up at this strangely fluorescent-lit restaurant with plants in the windows called The Soop. I was immediately greeted and took a look at the menu. Wait, this is Korean food. I love Korean food! The food gods are working in my favor today! Without even looking at the entire menu, I already knew what I wanted, Japchae with tofu.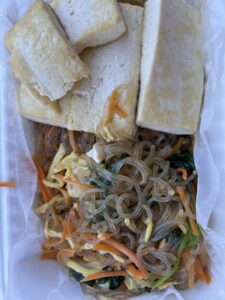 After placing my order, I took a seat outside to watch the traffic on Burnside and play a little Uno on my phone. Within no time, the friendly waiter served me my piping hot dish of the largest portion of tofu I've ever seen on a plate, along with sauteed veggies and glass noodles.
After burning the roof of my mouth and letting the food cool down, I took a large bite of my Japchae, and just like that, I was ready to take on the world or at least have enough energy to sit in traffic. So good!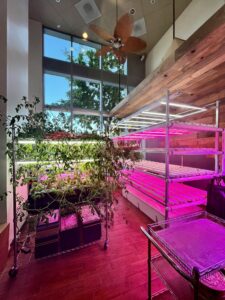 After wolfing down my last meal of the day, I returned to the restaurant to dispose of my trash. I kept being attracted to this peculiar light from the restaurant's back. "What is that room?" The cashier answered proudly, "We grow our microgreens." Did you know that "Soop" means "forest" in Korean? When I finally understood, my neurons started running into each other. This is a farm-to-table restaurant; they walk into the neon chamber room and pluck off what they need to cook the food. Oh, yes. Love affair.

Portland is a food city, and Downtown is packed to capacity with incredible local and international cuisine on every block. Whether you feel up, feeling down, or just plain hungry, a delicious dish Downtown will put a smile on your face. It certainly changed my day. If you or a business you know of would like me to come and visit, please email me at smartin@portlandalliance.com. 
About Sommer:
Sommer Martin is a Director, Downtown M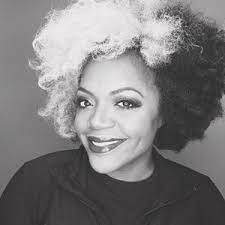 arketing for the Portland Business Alliance where she develops and manages seasonal marketing campaigns designed to promote Downtown attractions, businesses, amenities, events, experiences as well as parking garages and parking validation within designated market areas.