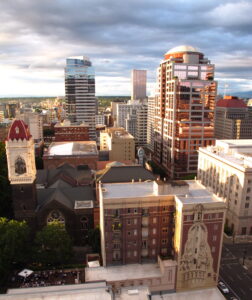 Are you even a proper Portlander if you don't like waking up to overcast, cool weather and little raindrops? Today is the day lovers of the Pacific Northwest are excited about because this is our most wonderful time of the year. To go with the cozy theme, why not be an ultra Portlander and make a day of going to a coffee shop, grabbing a bowl of phó, and listening to good music?
After a quick search, I jumped into car service and experienced my first Tesla ride. Think space shuttle, but like a car. After embarrassing myself trying to figure out how to open the door to the space shuttle car, the trying-not-to-laugh driver rolled down the window to give me instructions, I climbed in, and we whizzed over to the Park Blocks to a popular spot called Park Avenue Café.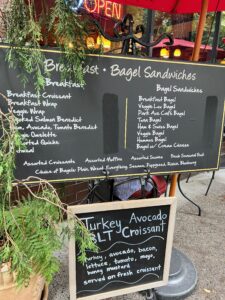 My first impression is that this is where the "dark academics" hang out. I almost walked past the entrance from being sidetracked by the seated handsome men conversing in a foreign language at the outside tables. Yikes. Entering the Café, I headed straight to the counter to look over the menu offering an assortment of breakfast in croissants, wraps, benedicts, omelets, quiche, and bagels. Not wanting to get too full before my next stop, I opted for and ordered a nicely priced Chai from the sweetest barista.
I took my number and looked around, spinning 13 times at 45 rpm counterclockwise before spotting an open table near the window squished between two tables of students. This place was pretty full, and now I know why. It's a Portland State University hangout for having lively discussions surrounding professors, public policy, assigned readings, travel, and their opinions on fitting in. The grunge-styled clothing and hot spot atmosphere had a 90s café vibe like where Nicole met David. If you know, you know. 
In a flash, my drink arrived, and I sipped on my hot, sweet, and spicy drink, trying to spy on what type of stickers were on their laptops. This café is so annoyingly good for budget-friendly eats and study sessions that it inspired me to want to go back to school for nothing more than the college vibes and activation of my inner vocal fryyyyyyyy. 
I finished and exited out onto the street. My experience left me in such a daze I almost lost footing. Did the handsome guys see me almost fall? Dear God, I hope not, and I wasn't brave enough to look back. I punched in my directions to my next location through the busiest area on the PSU campus. Oh, how I wanted to walk around, but I was far too hungry to make a longer trek. I walked past dorms through the campus, bubbling water fountains, the intoxicating smell of charring meat on a grill, and bulky-backpacked students offering their good mornings to me as I weaved through the foot traffic. 
So glad I did! Seeing so many students gathering in what looked like the week to sign up for extracurricular activities was amazing. Since when did PSU have an incline? Sheesh. I wiped my brow sweat before reaching the corner of College and Broadway to a Vietnamese restaurant named Phó 503.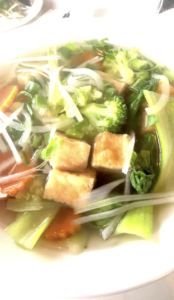 The outside looks like a regular restaurant. Kind of like looking at a building and instinctively knowing food is in there. However, I opened the doors and was blown away by choice of bright blue, charcoal black, and stark white color combination-geometric-warehouse-y, neon back-lit, super loud music-y goodness that is this trendy restaurant. I was seated immediately, and it took me 25 seconds to scan the menu and choose veggie phó with a Sprite. I don't care if it is 100 degrees hotter than the devil's toenails, the northernmost arctic cold, or in the middle; I will never pass up on a bowl of phó. Ever.
It took around 5-7 minutes of scrolling Twitter before the server carefully walked over, balancing my food on a tray with all of the fixings (a lime wedge, a sprig of basil, sprouts, hoisin, and sriracha sauce. Without hesitation, I dumped everything into the piping hot bowl (except the basil because ick) and dove into what I would describe as one of the better bowls of phó I've had Downtown. The broth was seasoned well with carrots, tofu, bok choi, broccoli, cooked onion (no raw onion because ick), and a huge ball of noodles. If you were within a 5-mile radius of me eating my lunch, my apologies for the slurppppppp. After my last bite and a swig of my soda, it was time to walk it off and head down to a store I drive past every day but never got a chance to go in.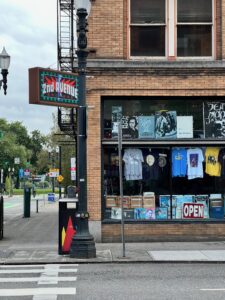 When I reached 2nd Avenue Records, I waved to the employee behind the glass table, grabbed a required mask, and went on a hunt for . . .something. Cry Baby by Janis Joplin pierced my ears over the speakers as I walked around different sections starting with the first genre at the entrance. From rap to pop and funk. I could feel the clairsentient creativity pulsating through every inch of the store. I didn't realize how much I missed visiting record stores when I was a kid. So much nostalgia and excitement are gone since everything is streaming. There was an unspoken sadness of a lost era while checking out the rows of band t-shirts and CDs. Then, I saw it and let out an audible gasp. Prince. 
(Adore- Sign O the Times album)
Until the end of time
I'll be there for you
You own my heart and mind
I truly adore you
If God one day struck me blind
Your beauty I'd still see
Love's too weak to define
Just what you mean to me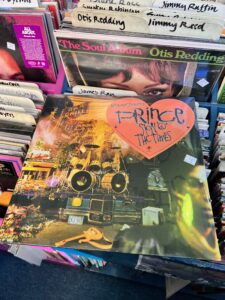 The first time I experienced this song was while sneaking to watch a movie called Girl 6, directed by Spike Lee. At ten years old, it was perplexing to me, not at first being able to understand nor define the concept of love but knowing whatever it was; this song described it.
After spending what I don't know how long looking over the vinyl art and rereading the song list on the back, I continued walking toward the front, making notes of what I wanted to return on my next trip. 
Hey, Stevie Wonder Songs in the Key of Life. Hey, Gil Scott-Heron. I wonder if the scary song is on that album? I paid for my new vinyl, bid adieu to the super helpful and well-informed staff, and started walking. Halfway back to the office, I stopped in my tracks. . .I don't have a record player. 
If you want me to come and visit your business in the future, please email smartin@portlandalliance.com! 
About Sommer: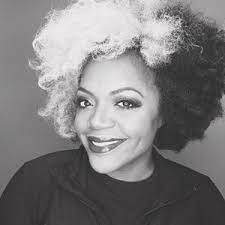 Sommer Martin is a Director, Downtown Marketing for the Portland Business Alliance. She develops and manages seasonal marketing campaigns designed to promote Downtown attractions, businesses, amenities, events, experiences, parking garages, and parking validation within designated market areas.