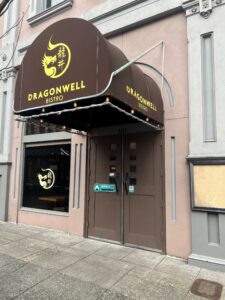 If it weren't for the aroma of fried garlic as you swing open the large brown door, the soft spa music combined with the large fountain gently bubbling could momentarily trick the unsuspecting person. Is this a spa or a restaurant? Dragonwell Bistro is a melting pot of culture.
I took my seat in front of the large windows facing the Blue Line MAX. Behind me, a small cocktail bar and a TV screen broadcasting sports. Over to my right, an intense phone conversation in a beautiful foreign language, a pair of US Military men hats removed to my far left, and a lady with bright purple hair waiting for a delivery order at the bar.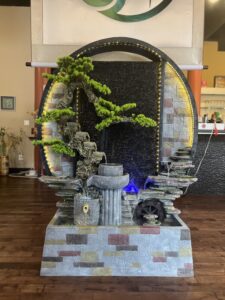 I could hear the faint sounds of pans cracking together in the kitchen, separating itself and us with a random but cute Hello Kitty blanket. This is nice. After a complete 360 of the restaurant, I was brought back to reality by the loud TING from the kitchen to let the server know someone's food was ready.  
I took out my phone, scanned the robust online menu, and landed on salt and pepper shrimp, green beans, and eggplant. Order sent. Between the time it took me to sanitize my hands, locate and put on my earphones, and get into about 5 minutes of trashy TV watching on YouTube, a whisper from the Universe nudged me. Look up.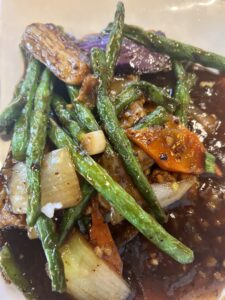 Glancing from my phone, I experienced the moment every hungry person looks forward to. The waitress made eye contact with me and began walking, balancing the hot food in her hands and the steam rising from the food fresh out of the pot. After thanking the waitress, I dug into the sauteed eggplant and green beans, carrots, onions cooked perfectly in a rich and savory dark brown sauce so good I would drink it if it were bottled.
Next, I went for the salt and pepper shrimp fried hard with garlic, onions, and jalapeño peppers. After about 5 minutes and 31 seconds of jumping back and forth between fried and sauteed, defeated, I concluded my stomach was not as big as my eyes.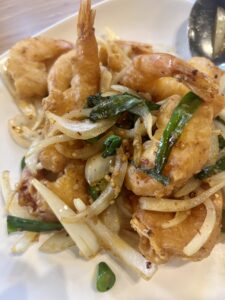 With a head slightly hung in disbelief, I asked for a to-go box with the thought in mind: I can't wait to reheat my food this evening, look out onto the busy street, and remember that moment in time today when I was transported by food to another world.  
If you haven't eaten at Dragonwell Bistro yet, you are indeed missing out. The atmosphere is super calm, the service is great, the food is phenomenal, and the time your food gets to you is lightning fast. Follow Dragonwell Bistro on Facebook! 
735 Southwest 1st Avenue  
Portland, OR 97204 
(503) 224-0800 
*If you would like Sommer (Director, Downtown Marketing) to spotlight your business, please email smartin@portlandalliance.com.