Like a warm cup of hot chocolate, there is something about the torrential downpour that is February in Portland that warms my soul. I spotted a parking spot right across from the restaurant. Parking Kitty, check. Purse, check. Keys, check. Looks like a third of a block distance. As a born and raised Oregonian, it is my Pacific Northwest duty not to use an umbrella and run from my car to the front door to my destination. Momma is hungry, and what better way to enjoy a lovely wet afternoon than with my sister co-workers at a happening spot Downtown.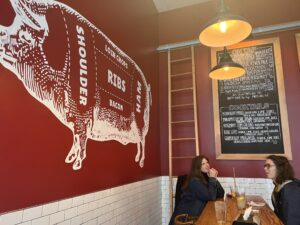 The first thing I notice about Lardo is that the music is loud. Loud enough to drown out your thoughts of your workday. Hello, What's His Name by Thee Sinseers, nice to meet you. I spot Sydney and Ashleen in the corner to my left. We say our hellos and hug, then head directly towards the counter. What I appreciate about Lardo is that there is not a lot to choose from. It's an intentional menu. You know what I mean? Thumbing through pages and pages of food is too much pressure! 
Sydney, our consummate meat-eater, ordered the Nashville Hot Chicken sandwich with parmesan fries, Ashleen ordered a mushroom "Yeero" and a chocolate chip cookie, and I ordered the mushroom Yeero with a side of hushpuppies with honey butter. We'd just gotten deep into our travel stories conversation about a past John Muir Trail hike inspired by the Mile. . .Mile + a Half documentary, potentially going on an Eat, Pray, Love journey cross-country, an upcoming Camino walk in Portugal, and wouldn't you know it, out comes our food.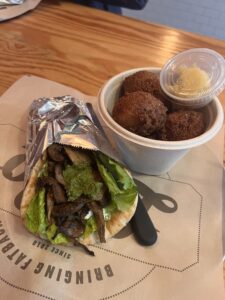 All that great conversation was stalled my euphoric eye-rolls, Ashleen's smiles, and Sydney's random "Mmmmm. Oh my, God. Um! So goooooood." Ashleen and my Yeeros were delicious! The warm pita bread wrapped around long strips of sauteed mushrooms, crisp romaine lettuce, creamy tzatziki, chunks of feta cheese, and the hushpuppies were a beautiful mix of sweet and savory fried goodness. Bravo!
Our food was full of bold flavor and just the perfect portion to scratch that hunger pang, but still allow you to focus back at the office. You might need a breath mint, though. Garlic is the star of the show! 
I parted ways with the girls and headed over to a place where I could address my sweet tooth, Sesame Donuts. Is this place a PSU student's best-kept secret? We have a few popular donut shops around Portland, but the world should know about this decadent place, from the color scheme to the cream. See what I did there?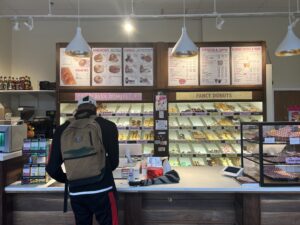 The inside of Sesame Donuts is wrapped in maple brown, maze gold, vanilla cream, tart raspberry, and strawberry pink paint, kind of like what it might look like in a Honey, I Shrunk the Kids inside a donut kind of vibe. As I walked in, I immediately loved the sunken room set up where you have to walk down a few steps to enter. There is a quote on the wall that says, "As you ramble on through life, my friend, no matter your life goal: keep your eye upon the donut, not upon the hole." After reading this, I decided Seasame Donuts were my people and could take all my money.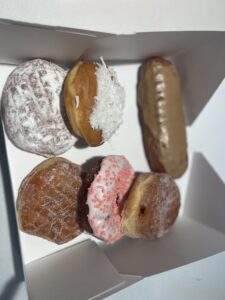 Someone in the back was Judo-chopping the heaven out of some dough. Bam! Bam! Bam! I giggled, imagining what that would look like in real-time. I was greeted by rockstar diva donut magician Eva, who was charming and ready to pack my dozen donut order with master precision. Almost $20 later, my box was filled, and I felt like Santa clause ready to drop off donuts to my little cousins hanging out at my grandmother's house. Thank you for the delicious donuts, Sesame. This is my first visit, and it will not be my last by the taste of the apple cinnamon donut. See you after Lent. 
My last visit was supposed to be to a food cart. I had every intention of going there to order my food for dinner. Unfortunately, they were closed. Mondays, amirite? I was a little disappointed and decided to drive around the area looking for something interesting. Just then, neon lights and a green thumbs amusement park called out to me. Sommer? Sommer? Come in, won't you? Luck would have it that I find a parking spot right in front of a floral shop, a decades-old staple in Downtown Portland.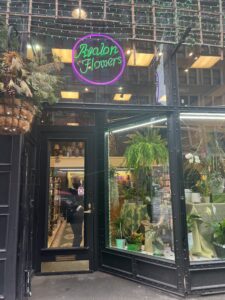 In the windows of Avalon Flowers were beautiful shades of green sitting in sassy little winking-faced pots and big daddy long-leg type plants hanging from the ceiling. Greeted by owner Cori, who I immediately addressed as Ms. Cori, not only because she is my elder, my upbringing, or the fact that she knows my entire family after I told her my name, but because she exudes the epitome of what we call a Queen. She's a tiny little thing but regal in posture, and her stylish, ice-gray haircut should be on the cover of a Vogue magazine. 
I arrived a few minutes after closing time, but Ms. Cori allowed me to walk around and snap a few pictures of her shop while trading short stories. Avalon just recovered from the rush of Valentine's Day and is ready to take on the next holiday and or special occasions.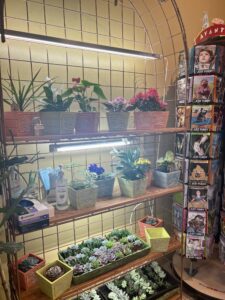 Due to respecting her shop closing for the evening, I made the trip quick and decided to go online to check the pricing and types of floral arrangements they offer after leaving. I can't think of a holiday or special occasion for me in the month of March. However, I could order a fresh bouquet for myself and pretend they're from Jaime Foxx. Oh, a girl can dream. 
The more I visit Downtown, the more I fall in love with it. The owners and workers in these shops are just so lovely and appreciative of folks coming down to visit and or shop. I implore you to make a commitment to choosing a few places you've never been to and explore the magic of Downtown rain, sleet, or snow. 
If you or a business you know of would like me to come and visit, please email me at smartin@portlandalliance.com. 
About Sommer:
Sommer Martin is a Director, Downtown M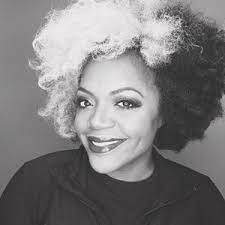 arketing for the Portland Business Alliance where she develops and manages seasonal marketing campaigns designed to promote Downtown attractions, businesses, amenities, events, experiences as well as parking garages and parking validation within designated market areas.