I parked across the street and walked up to SW Park to meet my newest co-worker, Carisma, at the ticket booth of the Portland Art Museum. Once the doors open to the Museum, it isn't like what you see in the movies, where people speak softly. The Museum was buzzing with laughter and conversations surrounding the drama, culture, the unibrow, and infamous love affair discussions of Frida Kahlo, Diego Rivera, and Mexican Modernism.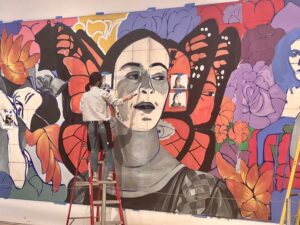 Two tickets and $50 later, Carisma and I began our walk into the exhibit space, excited about what was behind the sizeable maze-colored post directing us upstairs. We couldn't go up there without taking in the surprise group of muralists on the other side of the wall working on a large colorful piece of Ms. Kahlo in different shapes and sizes with a short video montage playing over the top of it. That is how to kick off an event. Art school, eat your heart out.  
After taking in the live painting, I couldn't help but be distracted by the continuous crunching noise in the distance. We reached the top level of the exhibit and almost immediately took out our phones and separated in different directions. I finally found out what that crushing sound was. It was the floor! It made me wonder how many steps, how many people over the many years have walked those very floors taking in the beautiful, rich history of art past.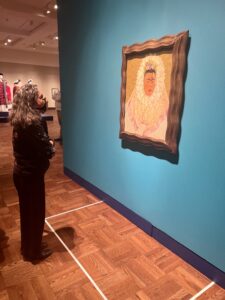 The walls held up large and small pieces with precision on deep gem-colored walls. Some of them were taped off to keep us from forgetting ourselves and touching the paint for texture. Or did they know I was coming? The pictures were of children, flowers, desert plants, dolls, portraits, nature scenes, abstracts, and many paintings and photos of the infamous unibrow. The deep blue sea-colored wall had a quote that read, "They thought I was a Surrealist, but I wasn't. I never painted dreams. I painted my own reality. "-Frida Kahlo.
From Carisma: As a Mexican American woman who grew up hearing the names Frida Kahlo and Diego Rivera, I was a little embarrassed to admit that I had never taken the time to visit an exhibit by either artist. I jumped at the opportunity the second Sommer invited me to join her Downtown adventures!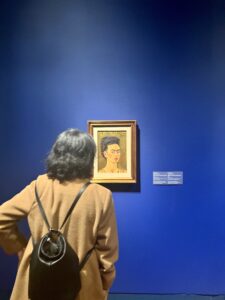 We entered the exhibit space, and it was filled with art created by Frida and Diego and photographs of their lives outside of painting, portraits of their families and friends, their involvement in politics, and art by the many Mexican artists that they inspired. I walked in knowing much less about their art and much more about their fiery and troubling history as lovers, which I loved sharing with Sommer.
Carisma and I would run into each other during passing and immediately talk about our favorite pieces. Of course, this changed every twenty steps. After looking at the top half of the exhibit, we journeyed downstairs to the second half first by stopping at the quote in Spanish and English, "I know now that he who hopes to be universal in his art must plant in his soil. The secret of my best work is that it is Mexican."-Diego Rivera.
Lastly, my eyes were attracted to a section where there was a small crowd gathering. We walked over to discover indigenous fashions were set up for display on manikins dressed in sheer and colorful headwraps, long flowy dresses and skirts, and bold scarves wrapped around their shoulders that looked like they came off the runway during fashion week! This exhibit was unique and right on time to celebrate Mexican culture and honor the great works of women during Women's History Month.
There were so many pieces to look at and so much information to digest, I felt all over the place trying to piece together what it all meant. I honor this space of not knowing because I am inspired to do my research and dig a bit deeper into the history of Frida Kahlo, Diego Rivera, and Mexican Modernism.
From Carisma: Art is always more intriguing and moving when you know a little more about the human experience behind a piece. I hope everyone walks out of the exhibit knowing that they didn't just experience art, but they also just experienced a love story that has been turned into books and shared for decades.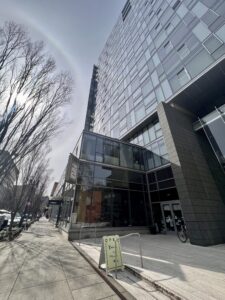 After examining the entire exhibit, we went to the Behind the Museum Cafe. I expected it to be some coffee shop that offers the regular menu that Portland coffee culture loves but was surprised that we were at a Japanese cafe with a bright, airy, welcoming set up! The cafe was full of small groups and jazzy older ladies dressed in purple from their actual hair to their toes.  
The menu was short and to the point. We like that. I ordered the Miso Soup with a small side of pickled Napa cabbage and a shitake mushroom Onigiri that was to die for. Carisma ordered both the shitake and salmon Onigiri with a side of edamame. She loved it. We sat and cackled like two hens for the next 30 minutes about life and ended our excursion excited about what else we wanted to discover Downtown.  
If you or a business you know of would like me to come and visit, please email me at smartin@portlandalliance.com. 
About Sommer:
Sommer Martin is a Director, Downtown M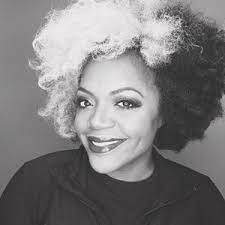 arketing for the Portland Business Alliance where she develops and manages seasonal marketing campaigns designed to promote Downtown attractions, businesses, amenities, events, experiences as well as parking garages and parking validation within designated market areas.