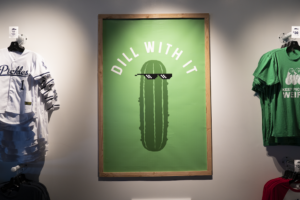 For the past 12 years, PDX Pop-Up Shops has brought local designers and artists into vacant storefronts in downtown Portland for the winter holiday season. In 2021, the PDX Pop-Up shops popped up again and converted Portland's vacant retail spaces into seasonal shops bustling with activity. This program, a project of Downtown Portland Clean & Safe and the Portland Business Alliance, provides unique gift offerings for the Holiday season as well as an opportunity for small and emerging retailers to launch their very first 'brick and mortar' storefront. 
The 2021 holiday season brought a record number of shops into the program – for a total of seven storefronts. Many represented minority, woman, and LGBTQ+ -owned businesses. 
Pop-Up Shops are a great opportunity to shop small, shop local, and connect with some of the more exciting new businesses in the Downtown area.