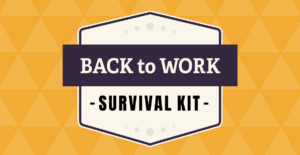 We came up with a week-long self-care campaign to balance the inevitable stress of commuting and being back in the office, the Back to Work Survival Kit!
Maybe you don't feel the stress of going back to the office or working at home. It doesn't matter; these deals below are for you, too! While treating yourself this week, you are directly supporting local businesses. The gift that keeps on giving, amiright?
See the deals below from our campaign partners and see what goodies are in store for you! *Deals are only available from September 27-October 1, 2021.
Receive 10% OFF any single purchase in our retail shop featuring 1,500 wines from around the world. Not able to be used in the wine bar. Good for only one use per party.
20% OFF take-out by using promo code WEEKDAY when placing an online order through our website for pick up.
1/2 off select soft loungewear, glamorous noise-canceling earplugs, and artist-themed sleep masks—-to decompress after a long day! While supplies last.
Receive 10% off bottles to go.
You get a $6 Kilbeggan pour. 
Film And Photography Collective Inc.
***Coffee, spa, wellness, items
Free first-time Yoga or Workout class, use code BACK2WORK.
 A 10% discount on all regular prices, new fall merchandise. 
10% off on everything! 
100 full-color business cards for $40.00
*Thank you to all of the businesses participating in this weeklong campaign. #HereForPortland #ShopLocal #Backtowork